Just For You
You're In
Be the first to know our latest tequila news.
Now fill out your profile so we can get to know you over cocktails.
Roca Patrón x Secret Supper: Redefining Fine Dining
Secret Supper and Roca Patrón partner on a bespoke series of secret suppers across North America.
Jan. 14, 2020
Secret supper clubs are a tradition that date back nearly 100 years. During Prohibition, they were essentially underground bars that served food. Nowadays, they're re-emerging as intimate, invitation-only gatherings with elevated fare. Last-minute menu reveals and unusual locations evoke mystery and heighten the sensory experience.
In addition to culinary and cocktail innovations, Roca Patrón and Secret Supper have partnered to add sustainability, community, and craft to the menu. Through a series of thoughtfully curated secret suppers, they've brought together renowned chefs and world-class mixologists to showcase their creativity through seasonal, locally-sourced ingredients.
And while the food and drinks were worthy of celebration themselves, 100% of the proceeds for these events went to the Savory Institute, an organization dedicated to restoring the world's grasslands through holistic ranching and agricultural management practices. Further exploration of this elegant, palate-tempting series, may inspire you to create an enchanting secret supper of your own.
Coastal Cool in Portland, ME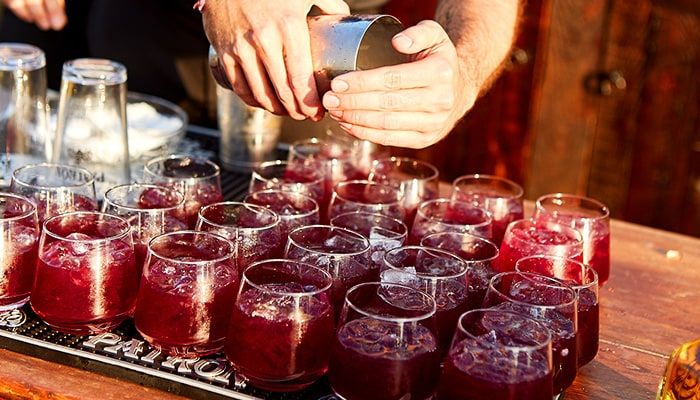 For the first night of the Roca Patrón Series, guests were transported by boat to House Island, a private island off the coast of Portland, Maine. They were welcomed on a hilltop by the talented mixologist, Jaren Rivas, with a Roca Patrón Añejo cocktail he created specifically for this occasion featuring locally gathered berries and herbs.
Being on the coast of Maine, chefs Andrew Taylor and Mike Wiley took advantage of the abundance of fresh seafood to create dishes such as lobster rolls and bluefin tuna. The lighthouse views and candlelit ambiance made for an unforgettable evening.
Motor City Realness in Detroit, MI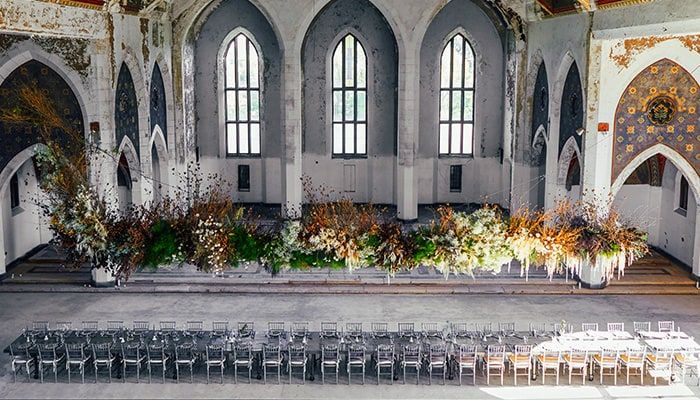 In Detroit, guests gathered in an abandoned church on the west end of the city. A harpist played in the corner while chef Kate Williams captured the essence of Midwest autumn by serving a panzanella with smoked salmon, toasted bread, roasted fall vegetables and a handful of late-season chopped fennel tops.
Skilled mixologist Jonathan Shock, created a libation of citrus and spice to stand up to the strong flavors of the salad and complement the black pepper, pumpkin and lime tea flavor notes of Roca Patrón Silver.
Mile High Glamour in Denver, CO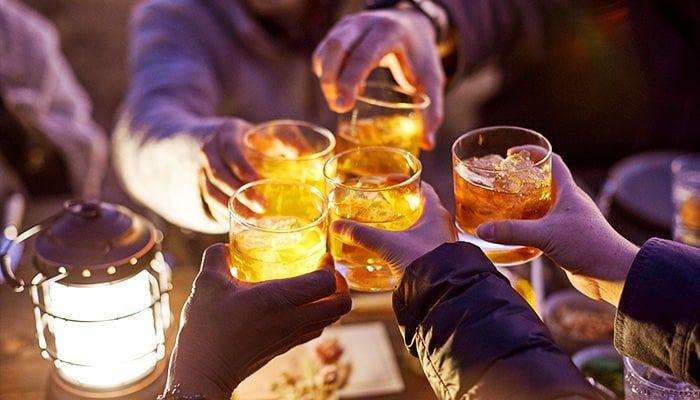 As the sun dipped slowly into the horizon, guests were welcomed to a ranch outside of Denver. The field where they gathered was blanketed with wildflowers and native grasses that showcased the vast beauty of Colorado. Conversation filled the air that night, as the guests sat around a long pine table with an acoustic guitarist strumming in the background.
Accomplished mixologist, Sean Kenyon, served citrus-based cocktails with Roca Patrón Reposado to highlight its vanilla, ginger and caramel notes. Chef Jennifer Jasinski prepared an autumnal salad with roasted brussels sprouts, mushrooms, chopped nuts and apples.
The bison ranch was a fitting location as it allowed guests to experience, first hand, the result of the regenerative grazing practices supported by the Savory Institute and the Roca Patrón x Secret Supper partnership.
Food & Cocktail Artistry in Santa Fe, NM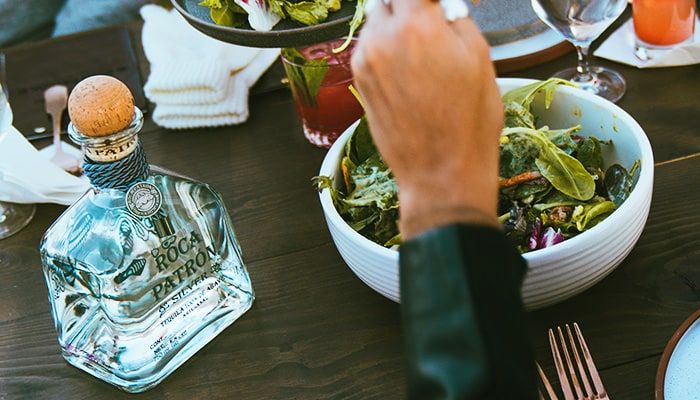 The Santa Fe National Forest provided a backdrop of some of the finest mountain scenery in the southwest US. Guests gathered at a long, family-style picnic table adorned with fall table settings and warm blankets.
Internationally-renowned chef, Fernando Olea, and talented mixologist Carla Gilfillan created beautiful and delightful pairings using local, seasonal ingredients that highlighted the flavors and nuances of Roca Patrón. Guests were treated to a fresh berry cocktail with Roca Patrón Silver, topped with mint for an herbaceous contrast. Attendees snacked on a crisp cabbage, spinach and chopped walnut salad. The nutty and fresh salad was quickly followed by freshly grilled mini tacos served with locally grown grilled peppers and ground beef.
California Dreamin' in Monterey, CA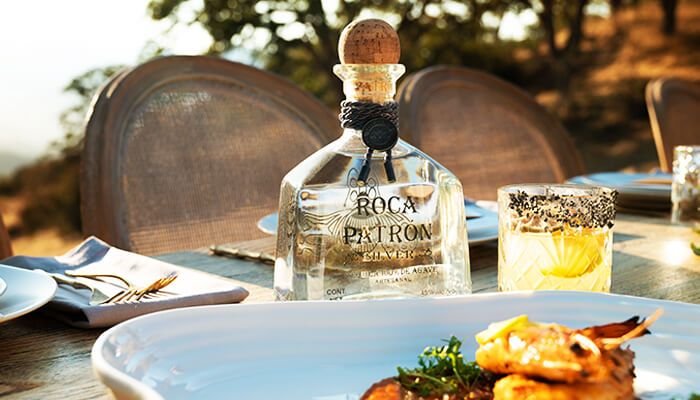 Overlooking the majestic, rolling, golden hills in the Carmel Valley outside of Monterey, CA, a select group of guests gathered at a rustic farm to celebrate with incredible food and exquisite Roca Patrón cocktails. Led by chef Nelson German of Alamar Kitchen & Bar in Oakland, CA and esteemed mixologist Robin Wolf of SLO Bitter Co. in San Luis Obispo, CA, the guests were taken on a culinary and cocktail journey.
By the candlelight and roaring fire, guests sampled from an extensive menu that included charred Gulf lobster paired with the distinctive cocktail of Roca Patrón Silver, chile liqueur, lemongrass, Thai basil and Mexican lager, as well as a pairing of grilled prawns and Kennebec potato with the unique cocktail of Roca Patrón Silver, yellow chartreuse, agave, bell pepper, chili oil and black salt.
Big Night on the Bayou in New Orleans, LA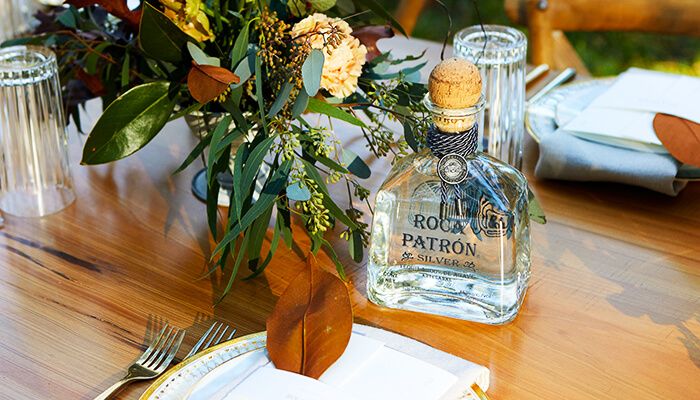 Where the Mississippi ends its journey through the United States, just outside of New Orleans, sits the working Stella Plantation. Among its citrus groves and diverse wildlife, guests gathered around an extended table for a night of oak-inspired drinks and food. The local cuisine, prepared by chef Zoi Antonitsas, included cajun oyster dip, grilled Delta red drum with crawfish red gravy and a wild boar stew.
Accomplished mixologist Chris Hannah of Jewel of the South, paired the exquisite food with Roca Patrón drinks. Two of his most well-received creations were Roca Patrón Reposado mixed with vermouth, verdita and club soda, as well as the vibrant cocktail of Roca Patrón Reposado, Cabernet cordial, lemon and Ruby Port.
Magical Night in Atotonilco, Mexico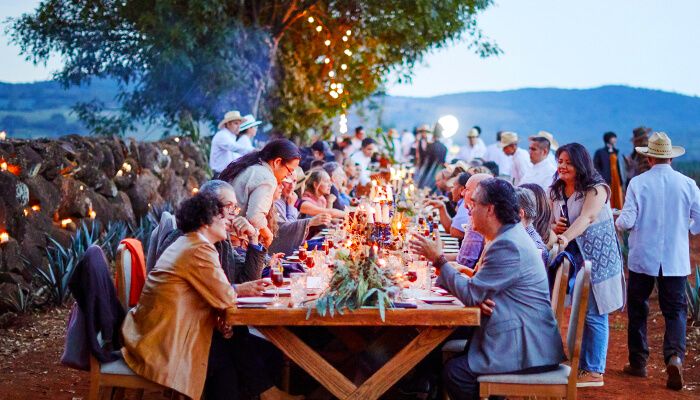 Historic Rancho San Ramon was the setting for an epic feast in a beautiful agave field. Located in the state of Jalisco, Mexico, the mountains provided the perfect backdrop for chef Daniel Nuñez Mercado and mixologist Oskar Murillo to collaborate on a menu that won't soon be forgotten.
The five-course meal was highlighted by a beef fillet skewer with roasted onions and cherry tomato, guacamole with chicharrón and Coaxala sauce, and homemade turkey mole colorado with mesquite roasted picaña. The signature cocktails for the night were the Atotonilco Sunset (Roca Patrón Silver, bell pepper and mint syrup, lime, tonic) and the Agave Night (Roca Patrón Reposado, yuzu, Patrón XO Cafe).
An Upstate Adventure in Rhinebeck, NY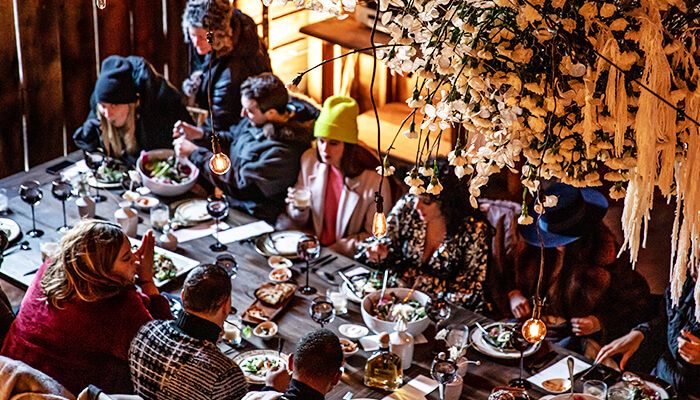 Guests were whisked by helicopter to a 1700s heritage barn, far away from the hustle and bustle of New York City. Upon arrival, they sat around long tables adorned with local floral arrangements while two of American's finest chefs and mixologists treated them to an enchanting, cozy dinner.
Katie Keck, of the famous NoMad Bar, curated a sumptuous meal that included oysters on the half shell with mignonette, fall greens salad with shaved root vegetables, and grilled whole fish accompanied with fennel and salsa verde. Brooklyn, NY's Naama Tamir crafted Roca Patrón cocktails that spoke to the food. Her cocktail of Roca Patrón Reposado, agave, sesame orgeat and lime drew rave reviews, as well as her bold cocktail of Roca Patrón Añejo mixed with lemon, honey, ginger and Gran Patrón Smoky.
This year's Secret Supper Roca Patrón series brought together amazing people for incredible meals and unbelievably inventive cocktails at some of the most picturesque locations around North America.
Thanks to everyone who created and enjoyed this amazing series. Hope to see you next year! In the meantime, for a behind-the-scenes look at each Secret Supper event, check out our video series After the Heart. And to add more sophisticated and complex flavors to your favorite cocktails, learn more about the Roca Patrón Tequila collection.
Just For You
You're In
Be the first to know our latest tequila news.
Now fill out your profile so we can get to know you over cocktails.