Just For You
You're In
Be the first to know our latest tequila news.
Now fill out your profile so we can get to know you over cocktails.
How to Infuse Tequila
Take your cocktail game to the next level by infusing PATRÓN Tequila with different ingredients such as herbs, fruits, peppers, and more.
Aug. 7, 2023
Infusing tequila is a popular technique that takes your cocktail game to the next level. It involves adding flavors to the spirit by infusing it with various ingredients. Read on to find tips, tricks, and wonderful recipes featuring infused PATRÓN Tequila.
START BRAINSTORMING
If you can imagine it, you can infuse it. Well, almost. But when it comes to creating infused tequila, the sky's the limit. You can experiment with different ingredient combinations and infusion times to find the flavors that suit your preferences. From fruity, floral, and citrusy, to herbal, spicy, and beyond. Your infused PATRÓN Tequila can be enjoyed on its own, in cocktails, or as a unique gift for friends and family.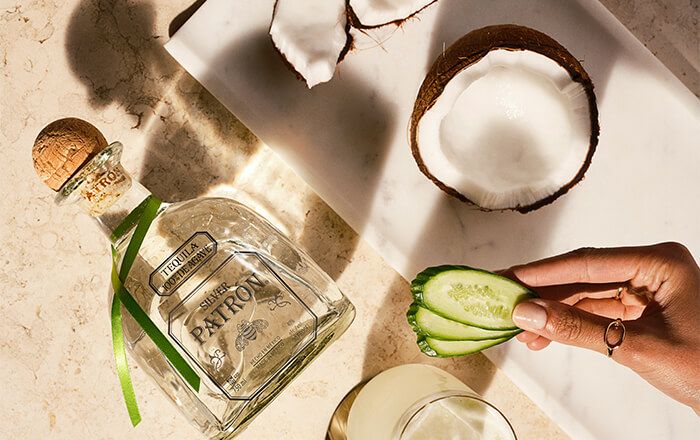 INFUSING TEQUILA 101
Choose your ingredients: Select the flavors you want to infuse into the tequila. This can include fruits, herbs, spices, or even peppers. The possibilities are endless, so get creative and experiment with different combinations.

Prepare the ingredients: Wash and clean the ingredients, removing any dirt or impurities. For fruits, you may need to peel or chop them into smaller pieces. If using herbs or spices, lightly bruise or crush them to release their flavors.

Select a container: Find a glass jar or container with an airtight seal that is large enough to hold the desired amount of tequila and the ingredients you'll be infusing.

Combine tequila and ingredients: Place the ingredients into the container and pour the tequila over them. Ensure that the ingredients are fully submerged in the tequila to facilitate the infusion process.

Seal the container: Close the container tightly with the lid. Oxygen exposure can affect the quality of the infusion.

Infusion time: The length of time for infusion depends on the intensity of flavors you desire. Generally, infusion can take anywhere from a few hours to a few weeks. It's best to taste the tequila periodically to determine when it has reached the desired flavor profile. Keep in mind that some ingredients may require shorter infusion times, while others may need longer to fully bring out their flavors.

Strain the tequila: Once the desired infusion is achieved, strain the tequila to remove the infused ingredients. Use a fine-mesh strainer or cheesecloth to separate the liquid from the solid ingredients. Discard the solids.

Bottle and store: Pour the infused tequila into a clean, airtight bottle for storage—you can use the same bottle of PATRÓN Tequila. Label the bottle with the infused flavor and the date of infusion. Store it in a cool, dark place, away from direct sunlight and heat sources, similar to regular tequila.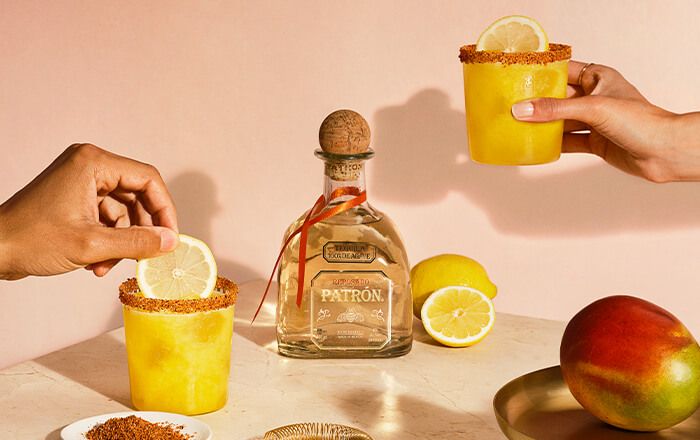 GET CRAFTING
Fruit infused tequila can only mean: amazing cocktails. If you enjoy citrusy, refreshing flavors, think about infusing limes, oranges, grapefruit or your favorite Vitamin C-packed fruit. El Pomelo y La Menta features grapefruit infused PATRÓN Tequila and is served in an elegant martini cocktail glass. If you made this infusion, you might as well make the very elegant and spirit-forward 60 Hands—it uses both PATRÓN Silver and PATRÓN Reposado.
Do you like cocktails with a spicy kick? There are so many hot peppers to choose from. For a classic favorite, try infusing your tequila with jalapeños and make a batch of Spicy Margaritas—a true crowd pleaser. Pro tip: serve with Mexican fare for a perfect experience. If you can take a bit more heat, try infusing Habanero peppers to craft a Patecatl, a drink that will amaze anyone who dares to try.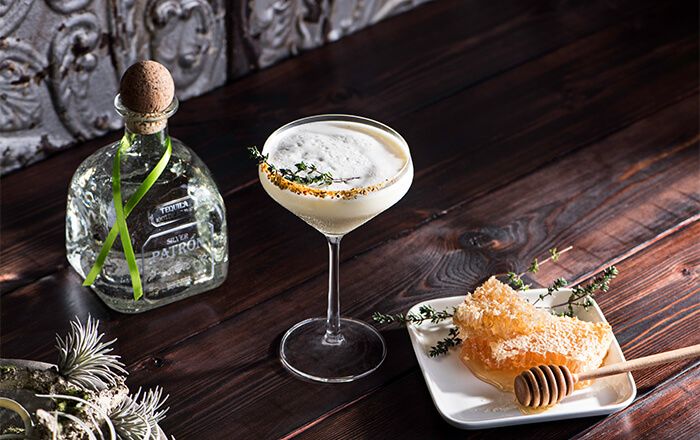 If you're feeling extra adventurous, these infusions and cocktails are for you. Maestranza features PATRÓN Silver infused with pink peppercorns—among other exotic ingredients. Or try Wind, an intricate sip which calls for PATRÓN Reposado infused with bee pollen. For a more savory take on a classic, make the Green Olive Patrónic, which calls for PATRÓN Tequila infused with green olives.
If you are ready to infuse PATRÓN Tequila and craft amazing cocktail creations, start with shopping for your favorite bottle. Happy crafting.
Just For You
You're In
Be the first to know our latest tequila news.
Now fill out your profile so we can get to know you over cocktails.