Just For You
You're In
Be the first to know our latest tequila news.
Now fill out your profile so we can get to know you over cocktails.
Summer Mule Must-Haves
May. 23, 2018
Summer is coming in hot, and while Patrón has a multitude of ways to keep it cool, there's one in particular that's definitely worth sharing.
Introducing the Patrón Limited-Edition Mule Mug Gift Set. This summer must-have comes with two custom silver mule mugs with handles shaped like the iconic bottle and a larger than life 1.75 liter bottle of Patrón Silver. That's enough tequila to keep you going strong all summer long (in most cases).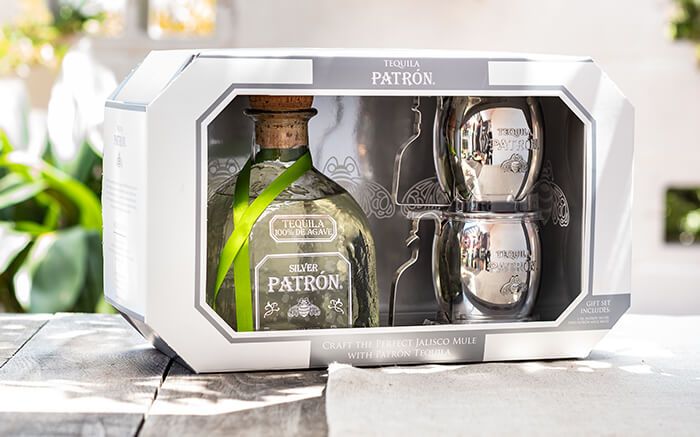 The included mule mugs are made out of a durable metal so you'll be using them for summers to come. They also have the Tequila Patrón logo emblazoned on front so everyone will know that you have a taste for luxury.
And while the mule — in a traditional sense — doesn't include tequila, the light and refreshing agave flavors in Patrón can make a mean mule you won't soon forget. Even better news — Patrón offers a variety of tequila mule recipes, so see which one suits your summer vibe to get the party started!
Buttoned Up
You're ready to trek outside of your typical mule comfort zone, but you're not riding it too far out. The Jalisco Mule has all the ingredients you're used to but with a simple swap of vodka for tequila.
Came to party
It's time to make summer come alive, starting with your taste buds. The Kicking Mule version swaps vodka for Patrón Añejo and adds a bit of heat with muddled jalapeño. Bonus: It has a cherry on top.
Swimsuit-ready
You abide by the adage, "sun's out, guns (buns?) out," and that means a lower cal version of the classic drink is calling your name. The Melon Mule leaves out the ginger beer in favor of simple syrup for fewer calories and adds watermelon cubes and mint for a fresh, summer twist.
Adventurous
Take a walk (don't drive) on the mule's wilder side with the Mora Mule. This variation adds blackberry and mint to put a modern touch on a classic, without going overboard.
Fabulous
The Summer Mule adds a little something-something in the way of muddled strawberries and mint to make your perfect summer cocktail.
Anything but basic
Add WTRMLN WTR to ginger beer and lemon juice to mix up a mule that no one else will be sipping on this summer. The addition of fresh raspberries and mint keep things different since you've never been one to follow the crowd.
Just For You
You're In
Be the first to know our latest tequila news.
Now fill out your profile so we can get to know you over cocktails.