Just For You
You're In
Be the first to know our latest tequila news.
Now fill out your profile so we can get to know you over cocktails.
Eastward Bound: A New Wave of Southern Cooking
Mar. 21, 2016
Classics like cheesy grits, fluffy biscuits and sticky ribs will always be a part of restaurant menus across the South—this will never change.
But these days, you'll find that more than ever Southern chefs are putting Asian touches on mainstay dishes: Imagine fried rice dishes resembling jambalaya, steamed buns made from cornmeal and barbecue sauces spiked with kimchi.
"It's not just chefs who want bolder flavors. Everyone is more open to experiencing something new," Rob Velazquez, the executive chef of the Atlanta-based pop-up group Booze Pig & Co., says. "Asian food is a great place to start."
This brand of cooking relies on local ingredients, and though some chefs have embraced calling this a new wave of "Asian fusion," despite the term's controversial and somewhat dated reputation, others say they're simply cooking the way they want to eat: locally with global influences.
This culinary trend could easily be dubbed the David Chang effect, according to Velazquez, who worked at Momofuku Noodle Bar in New York City for two years. Like Chang, who built his empire on ramen and pork buns, Velazquez throws a ramen night every Monday at The General Muir, where he's the chef de cuisine.
"I think myself and a young generation of chefs look up to David Chang," Velazquez says. "We saw what he did, and we're using a lot of Asian ingredients and cooking with French technique."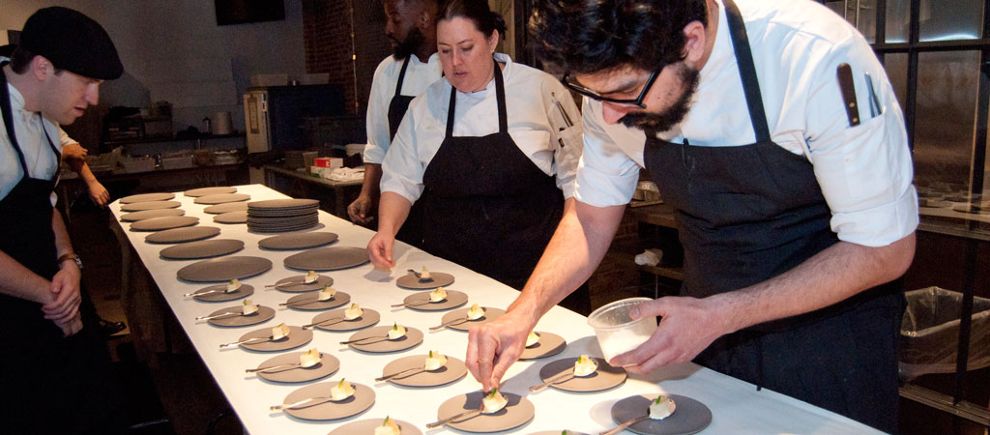 During Patrón's recent Secret Dining Society dinner in Atlanta, Velazquez kicked off the evening with a hamachi ceviche dish, which he spiked with ponzu (a Japanese citrus-based sauce) to complement the buttery texture of the fish.
For Steven Greene, the culinary director at An in Cary, North Carolina, the combination of Southern recipes with Asian ingredients was partly inspired by his travels to countries like Thailand and Malaysia.
"If you cook in America, it's automatically fusion cooking," says Greene, who was recently nominated for Best Chef: Southeast by the James Beard Foundation for his cooking at Herons at the Umstead Hotel and Spa near Raleigh. "We're influenced by countries that have cooked much longer than us."
He said the strong flavors of Asian dishes, like the Korean-style galbi beef with smoked blue corn grits served at An, reflect the popularity of ingredients, techniques and cooking philosophies across various Asian cultures.
The trend may also point to changing tastes in the dining public: At Malai Kitchen in Dallas, husband-and-wife team Braden and Yasmin Wages have noticed that over the years their customers have gone beyond ordering pad Thai and fried rice. Items like fragrant house-made curries and whole fried branzino glazed with Thai tamarind are now some of the menu's biggest hits.
"The dining scene has exploded in the South. It wasn't there before, but it's one that now encourages knowledge and exploration," Braden says. "But also, I think, if you look at the demographics of the South, there's a lot more diversity than ever. It brings people out of the rhythm of the core cuisine."
The wave of Asian influences is not surprising for a city like Charleston, says Josh Walker, the chef at Xiao Bao Biscuit, where aspects of Southern food are featured in dishes such as shao bing (a Chinese-style flatbread), a take on a biscuit stuffed with fried chicken.
"Any good restaurant should reflect the place it's located," Walker says. "If you're cooking good food, you're relying on the nearby fish man, farmers, purveyors—the source."
Just For You
You're In
Be the first to know our latest tequila news.
Now fill out your profile so we can get to know you over cocktails.