Just For You
You're In
Be the first to know our latest tequila news.
Now fill out your profile so we can get to know you over cocktails.
Sipping Sustainably: 3 Cocktails Worth Trying
Add a dash of sustainability to your next cocktail hour with eco-friendly cocktails from Patrón.
May. 10, 2019
Doing your part to help the environment is tastier than you might think. When you're sipping Patrón Tequila, you're supporting a company that's committed to sustainability and social responsibility with year-round initiatives at home and abroad. We're also committed to creating guilt-free, eco-friendly drinks by partnering with expert bartenders around the globe. Which of the following cocktails will you mix up? ¡Salud!​
RED – MASTI, DUBAI, UAE
Bartender Adam Carr set out to create a zero-waste tequila and tonic highball-style cocktail based around the use of an entire vegetable. Red pepper pairs beautifully with the herbaceous notes of Patrón Silver and lend a fresh and spiced tone to the final flavor. It's definitely a must-try for eco-friendly veggie-lovers!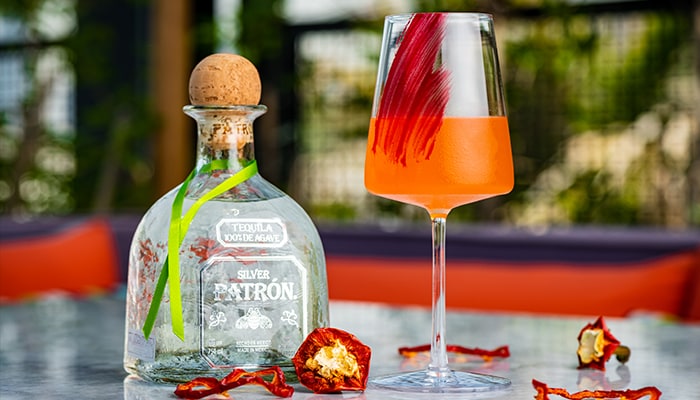 RED
2 oz Patron Silver
2 oz Premium tonic
.33 oz Blistered red pepper skin syrup
.33 oz Red pepper seed, flesh and stalk shrub
+ 2 dashes Red pepper oil
+ Red pepper edible paint for garnish
Add all ingredients except the tonic to one side of a shaker tin with ice, and throw to the other tin.
Pour into glass and top with premium tonic water.;
Garnish with red pepper edible paint.
PINANG – YES PLEASE, TAGUIG CITY, PHILIPPINES
Taking advantage of the abundant supply of pineapple in his country, bartender Mark Hererra created a responsibly sourced, use-the-whole-pineapple kind of cocktail. The juice of the fruit is used as a modifier, the meat is dehydrated to make pineapple leather, the leaves are used as a garnish, and some of the skins are used to make a fermented mixer called, tepache. The remaining skins are then used as a vessel for the cocktail. It's a great low-waste cocktail for those who like to get crafty in the kitchen!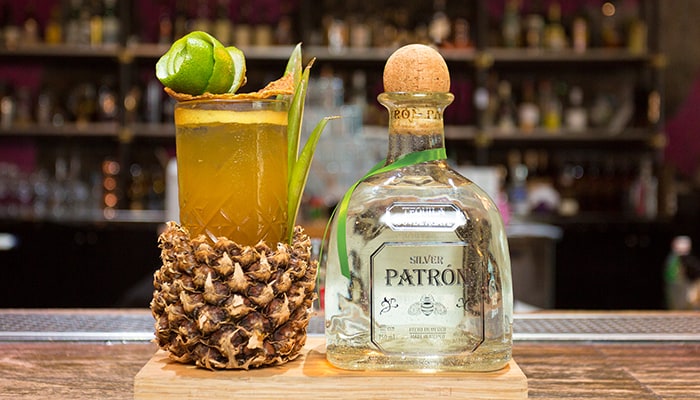 Pinang
1.5 oz Patrón Silver
1.5 oz Tepache
1 oz Fresh pineapple juice
.5 oz Lime juice
.33 oz Sugar syrup
Mix in highball glass with pineapple vessel.
Garnish with pineapple leaves, pineapple leather and lime peel flower.
FRUIT OF THE EARTH – THE CONDUIT, LONDON, UK
Using sustainable bartending methods, Walter Pintus and Cameron Moncaster have a definite knack for creating eco-friendly drinks. The Fruit of the Earth cocktail is a great example. It uses lime zest leftovers from their restaurant's dessert menu to infuse a Yorkshire rhubarb cordial. They then add verbena stems leftovers to CO2-charged water to create a zippy soda. If you want something fizzy, zesty and delightful, try this cocktail!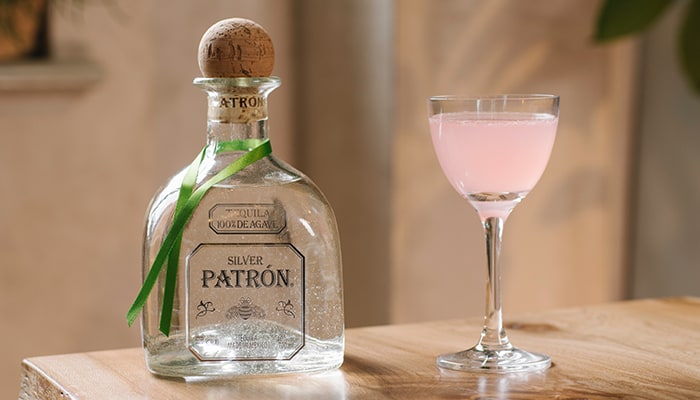 Fruit Of The Earth
1.1 oz Patrón Silver
2 oz Lemon Verbena Stems Soda
.68 oz Yorkshire rhubarb & lime zest cordial*
.33 oz Lime juice
Shake ingredients in shaker.
Top with Lemon Verbena Stems Soda.
Serve in a chilled Nick & Nora glass.
Just For You
You're In
Be the first to know our latest tequila news.
Now fill out your profile so we can get to know you over cocktails.