Just For You
You're In
Be the first to know our latest tequila news.
Now fill out your profile so we can get to know you over cocktails.
Dessert Face-Off: Bananas Patrón vs. Patrón Peach Basil Pops
Aug. 30, 2016
The world would just be a sad place without desserts. In fact, there's really only one negative aspect about any meal's delectable ending: having to choose.
In the spirit of friendly competition, here are two completely different desserts made with Patrón. In order to declare one best, you'll have to make them both
In one corner: Bananas Patrón
This Latin twist on the Bananas Foster is pretty much good on anything: over ice cream, on top of pancakes or waffles, or just piled sky high on a plate. And with the subtle vanilla and caramel flavors from Patrón Añejo, one thing's certain: There won't be any leftovers.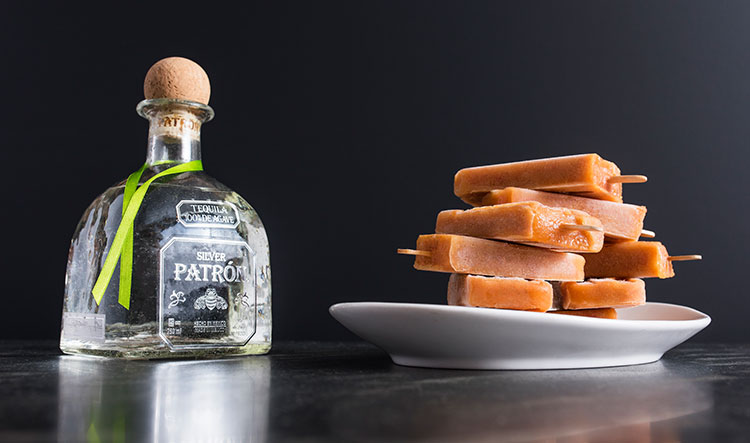 Bananas Patrón
4 tablespoons cultured, unsalted butter
1 cup light brown sugar
¼ cup Banane du Brésil or other good-quality banana liqueur
4 medium ripe bananas, peeled and halved lengthwise
¼ cup Patrón Añejo
1 pint premium vanilla bean ice cream
1 teaspoon smoked, flaky salt
¼ cup slivered, blanched almonds, toasted (optional)
Preheat the oven to 350°. In a 12-inch cast-iron skillet, combine the butter and brown sugar over medium-low heat. When the sugar and butter have melted into a uniform mixture (about 5 minutes), remove from the heat and add the Banane du Brésil. The sauce will bubble up and steam; stir gently to combine.
Add the bananas cut-sides down to the sauce, then transfer the skillet to the preheated oven. Bake for 20 minutes, or until the bananas are browned, softened and cooked through. Remove the pan from the oven and return to the stovetop. Using a large spoon or spatula, flip the bananas over so the glossy and caramelized cut sides are now facing up. Add the Patrón Añejo to the pan and flambé by lighting the liquid with a long lighter or match. Gently shake the pan until the flames subside.
Divide the ice cream among four wide bowls. Top each bowl with 2 slices of banana and a generous drizzle of sauce. Finish with a sprinkling of smoked salt and toasted slivered almonds, as desired, and serve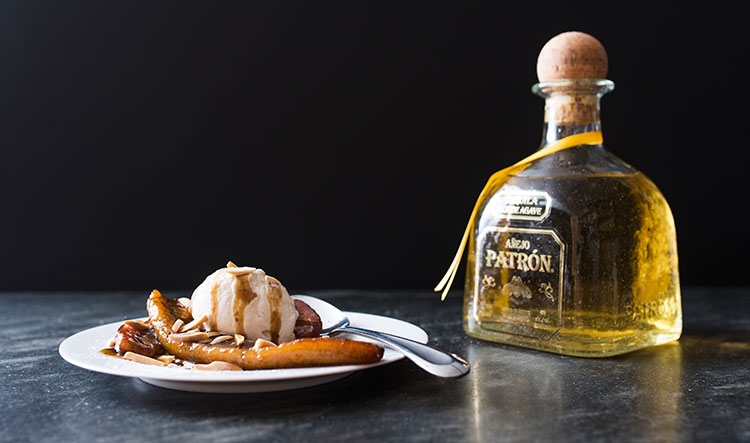 In the other corner: Patrón Peach Basil Pops
Frozen pops are a timeless summer tradition for a reason: They're delicious, they're refreshing and they make you feel like a kid again. And this sweet, savory and sophisticated—not to mention easy-to-make—version from King of Pops adds one key ingredient to make them even more fun: Patrón.
Patrón Peach Basil Pops
2 ounces Patrón Silver
10 fresh basil leaves, roughly chopped
4 ripe peaches, quartered and pits removed
¼ cup freshly squeezed lemon juice
1 cup basil-infused simple syrup*
Combine all ingredients and mix with a hand blender until the peaches are almost smooth and the basil is finely chopped and mixed throughout. Insert popsicle sticks into mold, and freeze overnight in an ice pop tray as quickly as possible.
*Basil simple syrup: Bring 1 cup of water, ½ cup organic evaporated cane juice and 10 large chopped basil leaves to a simmer. Remove from the heat; cover and let sit at room temperature for at least 4 hours (up to 24 hours). Strain out the basil leaves with a sieve and serve immediately, or store in the refrigerator until ready to use.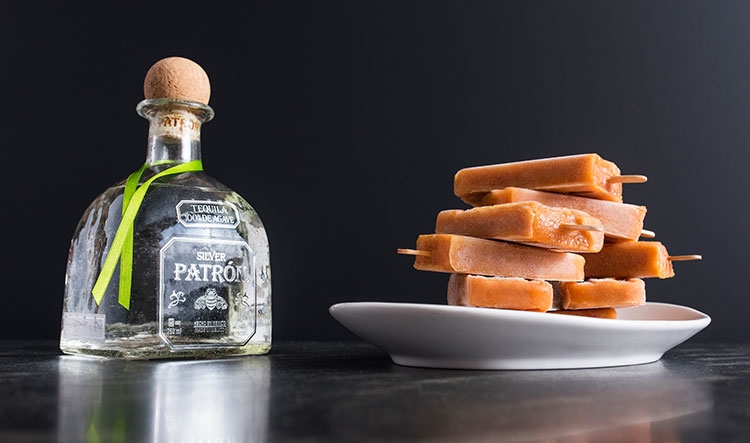 Just For You
You're In
Be the first to know our latest tequila news.
Now fill out your profile so we can get to know you over cocktails.