Just For You
You're In
Be the first to know our latest tequila news.
Now fill out your profile so we can get to know you over cocktails.
The Perfect Patrón Punch for New Year's Eve
Ring in the New Year with the Patrón Pear and Vanilla Bean punch.
Dec. 22, 2016
Calling all New Year's Eve hosts: It's wonderful you've taken the reins on the most celebratory (and last!) night of the year. But don't forget one very important fact: You should be having fun at your own party. And that's a lot easier to accomplish when you're not stuck behind the bar making bespoke cocktails all night.
The solution? A New Year's Eve Punch packed with festive flavors including Bartlett pears, elderflower, fresh vanilla beans, Martini Prosecco and smooth Patrón Silver. Make it ahead in a large bowl; at party time, all you have to do is grab a ladle.
Because remember: When the clock strikes midnight, you'll want to clink a cocktail glass, not scramble to put down a cocktail shaker.
Pear & Vanilla Bean Prosecco Punch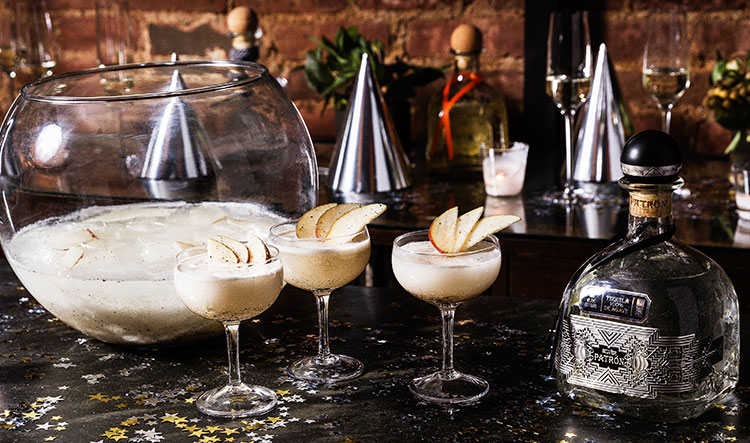 Pear Punch Ingredients
1.5 cups pear purée (optional recipe below)
16 ounces Patrón Silver
8 ounces lemon juice
6 ounces elderflower liqueur
3 ounces reserved pear and vanilla syrup
Ice
1 bottle (750 mL) Prosecco
In a punch bowl, stir together the pear purée, tequila, lemon juice, elderflower liqueur, and the reserved pear and vanilla syrup with ice. Pour in the Prosecco, stir gently to preserve the bubbles, garnish with the sugar-coated pear slices (recipe below) and serve immediately with coupe glasses on the side.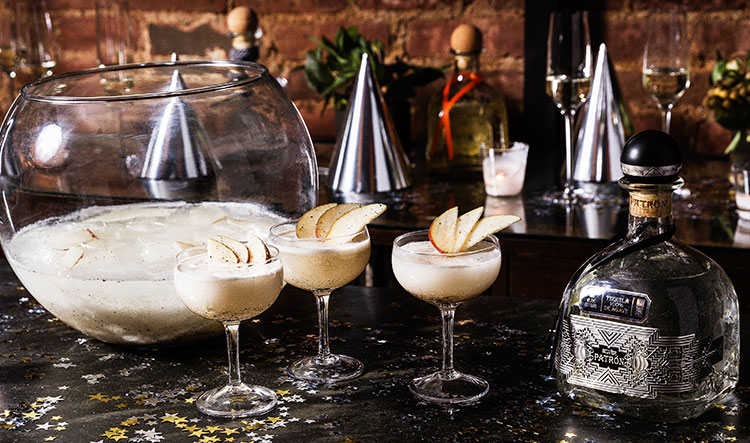 Pear Garnish Ingredients
.5 cup sugar
1 vanilla bean, scraped and pod discarded
2 red Bartlett pears, cored and thinly sliced
In a small bowl, add the sugar and vanilla bean scrapings. Using a spoon, work the vanilla bean seeds into the sugar until fully incorporated. Dip the pear slices in the sugar and reserve for later.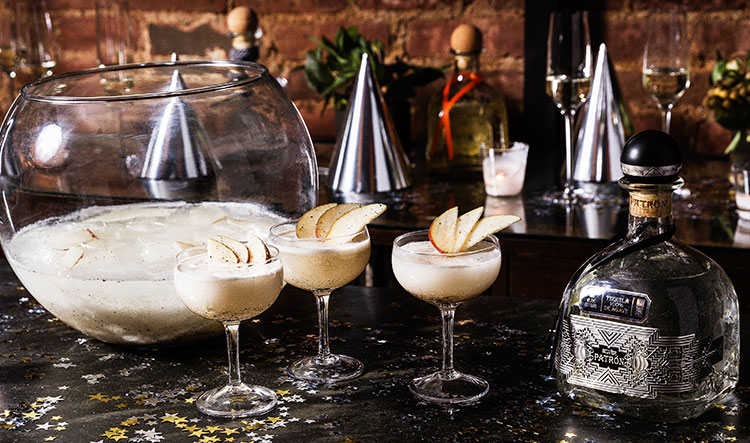 Pear Purée Ingredients
1 cup granulated sugar
1 cup water
4 ripe red Bartlett pears—peeled, cored and roughly chopped
5 vanilla beans, seeds scraped and pods discarded
In a small saucepot, add the sugar and water, and bring to a boil. Reduce the heat to low and add the pears; simmer for 15 minutes. Turn off the heat and allow the mixture to completely cool. Strain out the pears, reserving the liquid as simple syrup for a later use. In a blender, purée the poached pear and vanilla bean seeds on high speed until smooth.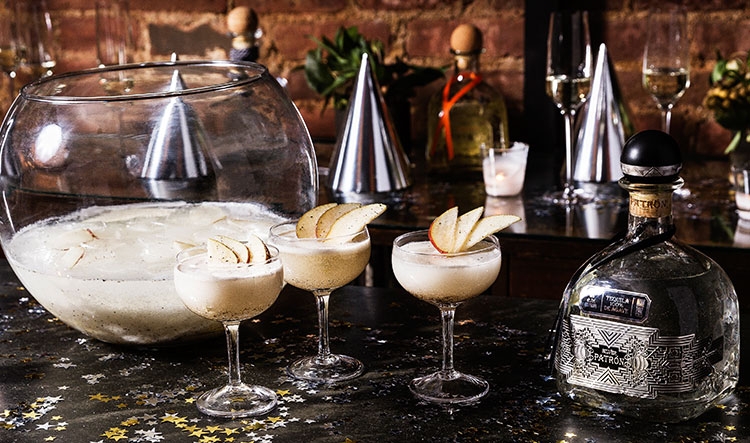 Just For You
You're In
Be the first to know our latest tequila news.
Now fill out your profile so we can get to know you over cocktails.