Just For You
You're In
Be the first to know our latest tequila news.
Now fill out your profile so we can get to know you over cocktails.
How to Make a Pear-and-Almond Dutch Baby Pancake
Dec. 8, 2016
A mouthwatering New Year's Day breakfast is as much of a tradition as the revelry that takes place the night before.
This hearty pancake, smothered in caramelized Bartlett pears, cinnamon, nutmeg and toasted almonds, is perfectly sweet and satisfying, particularly when paired with a coffee-inspired Brunch Money or the citrusy Silver Sling.
Resolutions: What resolutions!?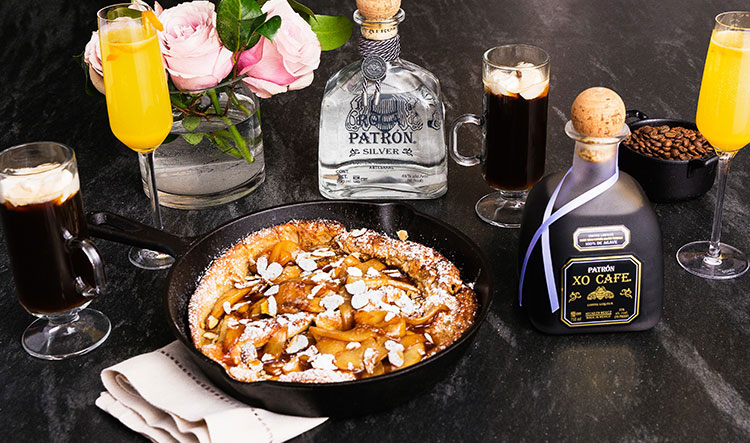 Dutch Baby Pancake with Caramelized Pears and Toasted Almonds
2 tablespoons sliced blanched almonds
2 large room-temperature eggs
½ cup room-temperature whole milk
½ cup all-purpose flour
2 tablespoons granulated sugar
1 teaspoon vanilla extract
½ teaspoon ground cinnamon, divided
⅛ teaspoon kosher salt
⅛ teaspoon ground nutmeg
3 tablespoons unsalted butter, divided
1 ripe Bartlett pear—peeled, cored and cut into 1⁄4-inch-thick slices
2 tablespoons light brown sugar
Confectioners' sugar, for dusting
Lemon wedges, for serving
Position the rack in center of the oven and preheat it to 350°. Place the almonds on a foiled-lined baking sheet and bake until golden brown, 8 to 10 minutes. Set aside.
In a blender, mix together the eggs, milk, flour, sugar, vanilla, half of the cinnamon, salt and nutmeg until smooth. Set aside.
Increase the oven to 450°. In a 10-inch cast-iron skillet, heat 2 tablespoons of the butter over medium-high heat until the butter is melted and the skillet is very hot, 2 to 3 minutes.
Carefully pour the batter into the preheated skillet and place it in the oven. Bake until the edges of the pancake are golden brown and have puffed up, 12 to 15 minutes.
Meanwhile, in a medium skillet over medium heat, melt the remaining tablespoon of butter. When the butter begins to foam, add the pears, brown sugar and remaining cinnamon, and cook until the pears are caramelized and just tender, 4 to 6 minutes.
Gently nestle the caramelized pears into the Dutch baby. Top with toasted almonds, dust with confectioners' sugar and serve with lemon wedges.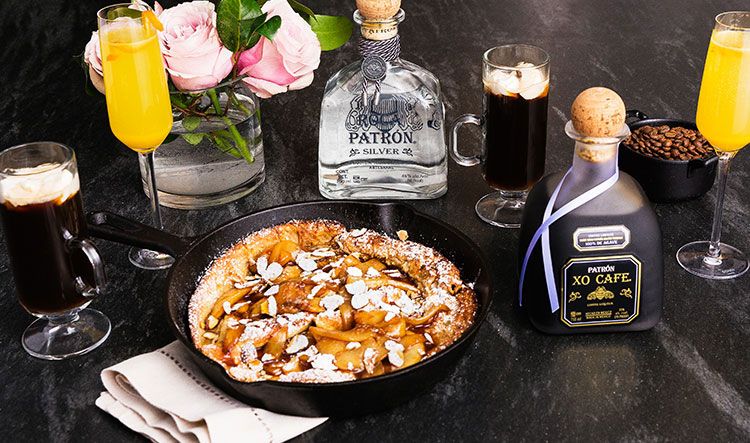 Just For You
You're In
Be the first to know our latest tequila news.
Now fill out your profile so we can get to know you over cocktails.