Just For You
You're In
Be the first to know our latest tequila news.
Now fill out your profile so we can get to know you over cocktails.
The Cocktail Cart Comeback
Craft cocktails are a game changer in a city known for bottle service. See how the bar cart trend is picking up speed.
May. 6, 2016
Las Vegas may be known for bottle service, but a recent wave of craft cocktails, paired with a love affair with all things mid-century, is making way for a new trend that confirms everything old is new again. It's time to welcome back the cocktail cart.
Sin City has seen a resurgence in bar carts serving a variety of cocktails in restaurants and bars alike. The trend is also alive and well in the home of bottle service as it is in other cities, like New York, where one Michelin-starred restaurant removed tables to make room for its carts.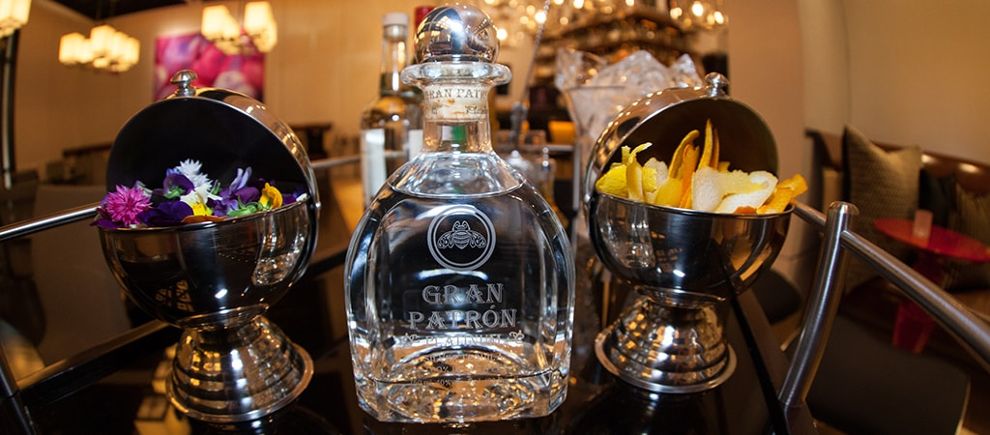 Look no further than Wolfgang Puck's restaurant in Las Vegas to see how the cocktail cart trend is picking up speed. In March, they launched a cart that served negronis tableside. The cart was custom-made to fit the aesthetic of the restaurant, and another cart is already in the works.
According to Tim Wilson, director of beverage for Wolfgang Puck Fine Dining Group, guests love the cart and enjoy watching cocktails being made in front of them.
For the spring and summer months, the restaurant recently transitioned to making tequila-based Manhattans. Instead of making the classic cocktail with whisky, they chose tequila because it's "an approachable, clean spirit, great for warmer weather," Wilson says. Tequila and Mezcal are popular spirits these days, and according to Wilson, Puck himself is a fan.
Their cocktail cart serves three varieties of its tequila Manhattan, including the Platinum Manhattan, made with Gran Patrón Platinum.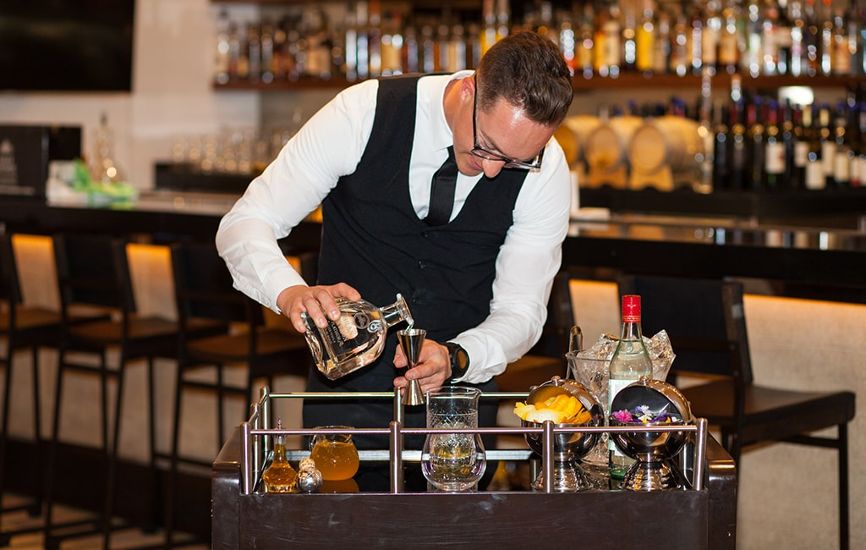 The trio of tequila Manhattans offered on the cart are mixed with vermouth, house-infused orange syrup and Angostura Orange Bitters. Poured over hand-chipped ice, they are topped with edible flowers, a favorite at Puck's restaurants.
The Platinum Manhattan is an elegant drink—lightly floral, citrusy and seriously refreshing. With the cart roving around the restaurant, it's almost too easy to order more than one.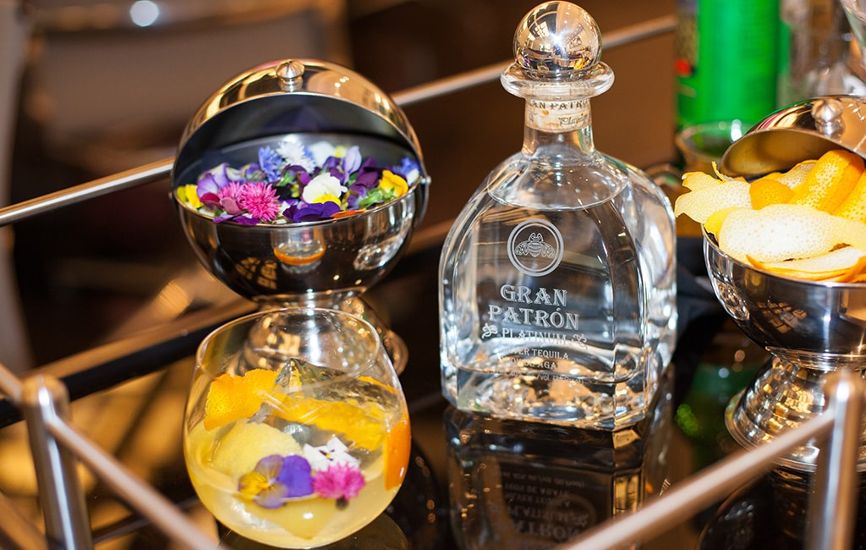 If you can't make it to Vegas to taste one of the tequila Manhattans for yourself, try mixing your own version. Start with the ratio of two parts tequila, one part vermouth and one to two dashes of bitters. Orange bitters are a great complement to the tequila, and an edible flower or an orange peel will take your beverage to the next level.
The last step? In the tradition of the cocktail cart, of course, be sure to mix it tableside.
Just For You
You're In
Be the first to know our latest tequila news.
Now fill out your profile so we can get to know you over cocktails.