Just For You
You're In
Be the first to know our latest tequila news.
Now fill out your profile so we can get to know you over cocktails.
Latest Hot Cocktail: A Paloma Rises in Phoenix
As things warm up in Phoenix for our latest #SecretDiningSociety, this Smoked Paloma was the perfect way to cool down.
Mar. 31, 2016
Chicago-based mixologist Lisa Selman is always looking for a cocktail to heat things up—even in summery climates.
Enter the Smoked Paloma, one of Selman's featured recipes for the latest Secret Dining Society in Phoenix. This isn't a frilly cocktail with overly sweet or floral notes, but instead, it's full of complexity.
"It has a really cool, unique flavor," Selman says. "The grapefruit soda adds some complexity to it."
There's also a hint of saltiness throughout the drink, and the Roca Patrón Silver is complemented by smoky notes of a Lapsang souchong tea-infused smoked salt sugar syrup.
She continues, "You end up drinking a cocktail with a lot of body to it. It's not what you necessarily think of drinking in a hot place like Phoenix."
But Selman says for a city like Phoenix—and any city with a sweltering summer, for that matter—tequila is the perfect spirit.
"Tequila is like the whiskey of the South," according to Selman. "It warms you up in a good way."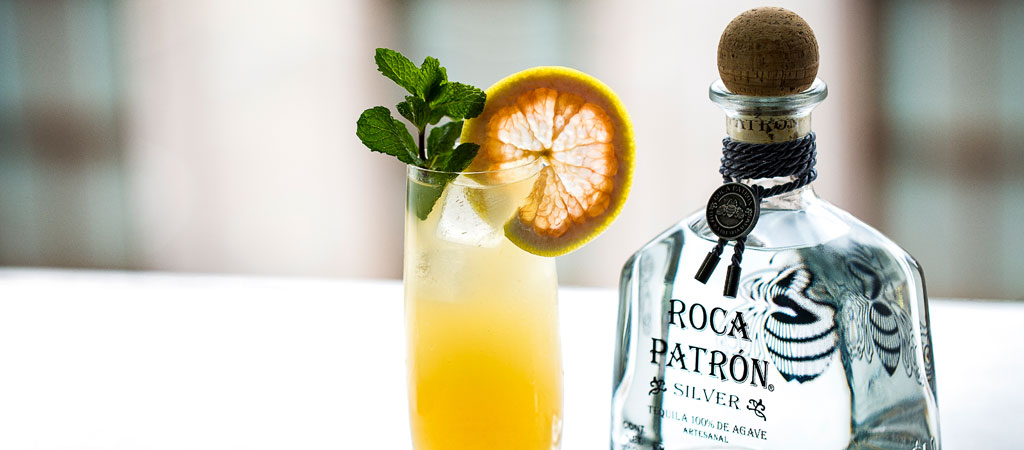 Smoked Paloma
Makes 1 drink
Water
1 teaspoon smoked salt
1 tablespoon Lapsang souchong tea
Sugar
1.5 ounces Roca Patrón Silver
.75 ounce smoked salt sugar syrup
.75 ounce fresh lime juice
.75 ounce fresh grapefruit juice
1 can Pompelmo San Pellegrino
Ice
Mint sprig, for garnish
Grapefruit slice, for garnish
Make the smoked salt sugar syrup: To a small pot, add water, the smoked salt and Lapsang souchong tea, and bring to a boil. Strain the salt-tea mixture and weigh, then add the same amount of sugar by weight. Boil again until the sugar dissolves. Let the simple syrup cool and enjoy. It will last about 3 weeks in the refrigerator.

Make the cocktail: In a shaker, combine all of the ingredients except for the San Pellegrino, then add ice and shake. Strain over fresh ice in a Collins glass. Top with the San Pellegrino and garnish with a big sprig of mint and a slice of grapefruit.
Just For You
You're In
Be the first to know our latest tequila news.
Now fill out your profile so we can get to know you over cocktails.