Just For You
You're In
Be the first to know our latest tequila news.
Now fill out your profile so we can get to know you over cocktails.
Pairing Seafood and Cocktails: What's the Catch?
Mar. 21, 2016
You just ordered tacos piled high with grilled shrimp—so when your server asks what you'd like to drink, you go with a glass of white wine, right?
Not anymore: It's time to drink a cocktail with your favorite fish dish.
Pairing cocktails and seafood may seem difficult to reel in, so we gathered some advice from the pros at the latest Patrón Secret Dining Society event in Atlanta, where chef Rob Velazquez created two seafood dishes to kick off the night—a simple, refreshing hamachi ceviche and a bolder grilled octopus dish accented with sweet and spicy notes. Brandon Kemp paired cocktails with the dishes after countless rounds of testing recipes.
Check out their expert advice below, then mix things up with a perfectly mixed cocktail at your next seafood dinner.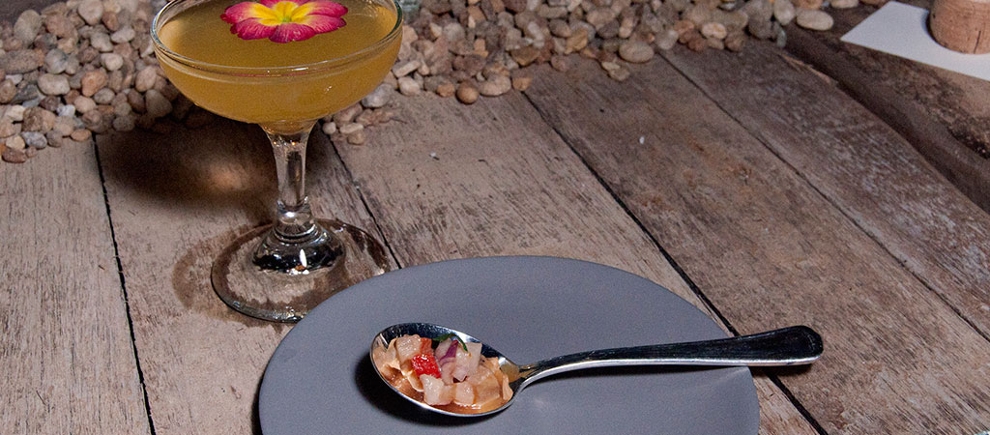 Balance is key. Seafood often has more subtle flavors that can be easily overpowered, so Kemp recommends selecting cocktail recipes that use similar ingredients to your seafood dish. At the Secret Dining Society Atlanta dinner, he created The Caribana cocktail to pair exclusively with Velazquez's light hamachi ceviche. To complement the dish's mango and ponzu, Kemp put a little clementine juice in his drink.
"We wanted to play with the flavors of the dish but at the same time, not throw your palate completely off course," Kemp says.
Citrus is your friend. There's a reason many a seafood dish come with a lemon wedge: A simple squeeze of lemon adds a crisp, clean flavor while letting the flavor of your fish or shellfish shine.
While Velazquez advises against using too much lemon (it can be too astringent), he says using citrus in cooking or cocktails helps balance out flavors. And Kemp agrees when it comes to cocktails: All four drinks he mixed for the Secret Dining Society dinner included touches of citrus, including one featuring Patrón XO Café that was topped with lemon zest.
Less is best. Too many flavors can overpower the taste of the main seafood ingredient. Kemp advises, "You don't want to muddle flavor profiles. There shouldn't be one flavor that's so strong that it's all you taste after one taste."
Think of the cocktail as a component of your dish: Ideally, the drink will enhance and bring out the best flavors. For Velazquez's smoky grilled octopus with sweet potatoes, crushed bananas and chorizo, Kemp added similar smoky notes to his accompanying cocktail with mescal.
With these tips, your next seafood and cocktail pairing should go swimmingly.
Just For You
You're In
Be the first to know our latest tequila news.
Now fill out your profile so we can get to know you over cocktails.