Just For You
You're In
Be the first to know our latest tequila news.
Now fill out your profile so we can get to know you over cocktails.
Get Pickled: How to DIY the Ultimate Garnish of the Season
Dec. 10, 2015
Pickle chips on a burger, pickle relish on a hot dog at the ballpark, bread-and-butter rounds made from scratch to nosh on as a satisfyingly crunchy snack. Ah, the pickle. While most well known to the American palate as a cucumber, you can pickle practically anything.
A pickle is essentially a food that has been preserved in a brine or vinegar, with the purpose of extending its shelf life. While the addition of liquid is necessary for some foods, others, such as cabbage, have enough moisture that all you need is some salt to coax it out. In cultures near and far, foods from herring to onions to cabbage (think Korean kimchi and German sauerkraut) have been bottled up and used as condiments year-round.
But aside from the practicality of it, pickles are enjoyed for their sour, sweet, salty, tart and spicy qualities. Happily, pickles and their brines pair just as well with spirits as they do with foods. While you may be familiar with adding a tiny pickled onion to a Gibson, the pickle is an unexpected but delicious garnish for tequila-based drinks as well, such as pairing a Patrón Silver martini with a pickled lemongrass stalk. And turns out, pickling at home is not only a great way to add a personal touch and a unique nuance to a cocktail, but is super easy.
Brine recipes abound, starting with the basics of sugar, salt and vinegar. For the spices and herbs, black peppercorns and coriander seeds are a good place to start. As for choosing which items to pickle, begin with your seasonal fruits and vegetables. For example, cherries, peaches and sliced red onions are no brainers.
To make your brine, bring your ingredients to a boil in a saucepan and make sure your sugar and salt are dissolved. Then, pour the brine into your sterilized jar, over your vegetable or fruit of choice. Close the jar, then boil the jar itself to lock out the bacteria. Most pickling recipes will provide a processing time, but you'll know that it's done once the jar's lid depresses or looks concave—just like the indented lid on a new jam you find at a store. These can keep up to two months.
Now, get to pickling! Your martini is waiting.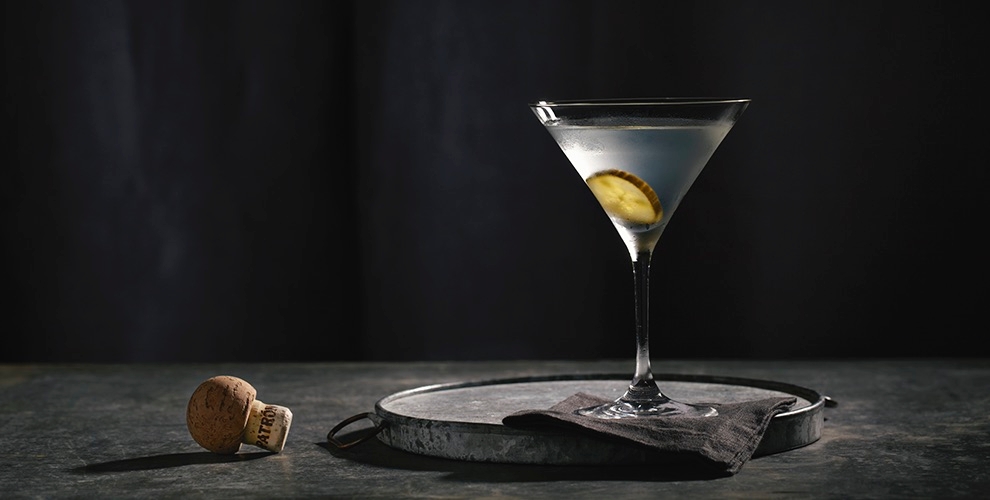 Ingredients
Patrón Silver
MARTINI Extra Dry Vermouth
Ginger-Lemongrass Pickle brine*
Ginger-Lemongrass Pickle slice for garnish*
How to Make
*Ginger-Lemongrass Pickles
1 slice English cucumber
1 slice fresh ginger, peeled
1 lemongrass stalk, peeled and smashed
1 ½ cups white vinegar
1 garlic clove
1 tbs black peppercorns
1 tbs sugar
1 tsp salt
For the Ginger-Lemongrass Pickles, place the cucumber slice, ginger and lemongrass stalk in a 1-quart capacity heatproof jar. In a small saucepan, bring the rest of the items to a boil. Pour mixture into the jar with cucumber slices. Remove from heat, cool completely, and refrigerate in an airtight container until needed. Pickles will keep for up to 1 week.
For the cocktail, rinse a chilled martini glass with vermouth and add a pickle slice. Stir the Patrón Silver and pickle brine in an ice-filled glass. Strain into the prepared glass.
Just For You
You're In
Be the first to know our latest tequila news.
Now fill out your profile so we can get to know you over cocktails.