Patrón
Ahumado Silver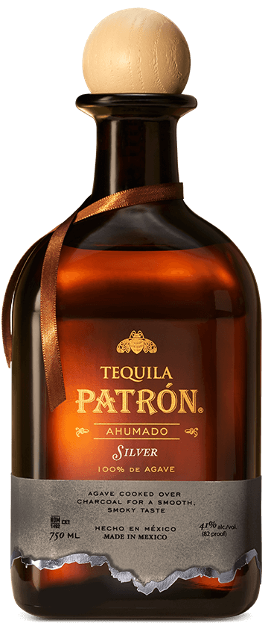 A smoke-kissed silver tequila made with​​ 100% Weber Blue Agave features a lingering smoky and smooth taste, natural sweetness balanced with notes of spices, black pepper, and cooked agave.
---
A fine balance
color

Crystal clear

aroma

Cooked agave

taste

Lingering smoky & smooth

finish

Light pepper
---
A lingering smoky flavor
Roasted in small batches and crushed through a 100% tahona wheel distillation process, Patrón Ahumado Silver is the go-to spirit for toasting on special occasions. Discover the fine taste of cooked agave and natural sweetness.
---
Nutritional Facts
Only 98 calories
Caffeine-free
Allergen-free
Gluten-free
Average analysis per 1.5 fluid ounces
What's In a NOM
A singular focus on Patrón's perfection puts us in a field of our own.
The Power of Patrón
Get the perfect tequila cocktail suited to your preferences.
BEYOND THE BOTTLE
Building a legacy means so much more than tequila.
Discover more
So many ultra-smooth varieties makes for one difficult decision
Swipe For More