2019 Limited Edition
Patrón Silver
1-Liter
Every drop of ultra-premium tequila in this special-edition bottle is handcrafted in small batches at Hacienda Patrón in Jalisco.
The extravagance of Mexican Baroque is reflected in the design of each handcrafted bottle and intricate metallic stopper.
Smooth tequila, metallic accents presented in a striking green bag make this a gift given in good taste.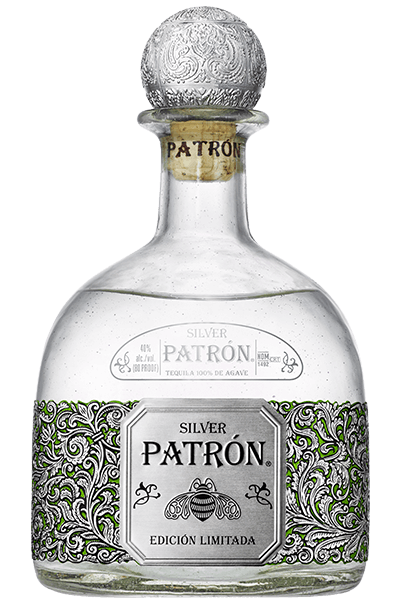 A collectible bottle that's 33% bigger and 100% Patrón.
---
A fine balance
color

Crystal clear

aroma

Fruits & citrus

taste

Smooth & sweet

finish

Light pepper
---
Go big this season
The Limited-Edition Patrón Silver 1-Liter is made from 100% Weber Blue Agave in a collectible bottle designed for the holidays. Inspired by Mexican Baroque architecture, the striking and highly ornate bottle is not only the perfect gift but the biggest of the season.
Popular Patrón Silver cocktails
What's In a NOM
A singular focus on Patrón's perfection puts us in a field of our own.
The Power of Patrón
Get the perfect tequila cocktail suited to your preferences.
BEYOND THE BOTTLE
Building a legacy means so much more than tequila.
Discover more
So many ultra-smooth varieties makes for one difficult decision
Swipe For More