Just For You
You're In
Be the first to know our latest tequila news.
Now fill out your profile so we can get to know you over cocktails.
Waste Not, Want More Cocktails
Give happy hour a sustainable twist for Earth Day with a signature recipe made to celebrate with and waste-free cocktail tips.
Apr. 18, 2018
Zero-Waste, All Flavor
In honor of Earth Day, Patrón has created the perfect zero-waste cocktail that makes the most out of every ingredient. The Tiki-la Colada uses homemade syrups and infused Patrón as well as a pineapple hull rather than a standard glass. Cheers to Earth Day!
Go Green Ingredients
Making your bar cart more sustainable is as simple as using your usual ingredients in new ways. Preserving, infusing and reusing help you go green at happy hour and give you the chance to cheers to doing some good.
Overripe and Just Right
One second it's perfect and the next, not so much. It can be hard to use up all of your freshest ingredients before they hit their time limit. If you have some sweet cantaloupe or honeydew about to become too ripe, preserve it in a combination of vinegar and sugar, making the perfect acidic accompaniment to your at-home cocktails and sparkling drinks.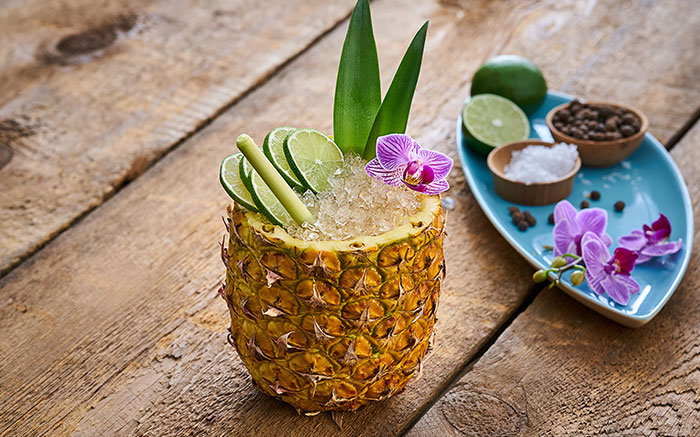 Cantaloupe Shrub
3 Cantaloupes chopped into 1-2" cubes
White sugar
Apple cider vinegar
In large container, combine chopped cantaloupe and sugar that is equal to half the weight of the fruit.
Mix until the sugar is well distributed with the cubed fruit.
Allow to sit, covered, for at least 8 hours.
Blend the mixture in a blender and strain through mesh or cheesecloth.
Add apple cider vinegar that is roughly one tenth of the weight of cantaloupe-sugar purée.
Sweetness of the fruit can vary, so taste and adjust accordingly.
Save Those Squeezed Limes
Squeezing some of our favorite citrus fruit always leaves us wondering what you can do with those hollowed out hulls other than throw them out. Next time you have squeezed lime halves or whole ones that have been the victims of some failed zesting attempts, add them to some sugar to make a sweet and acidic cordial. Add it to your next recipe that needs a twist of lime with a second life.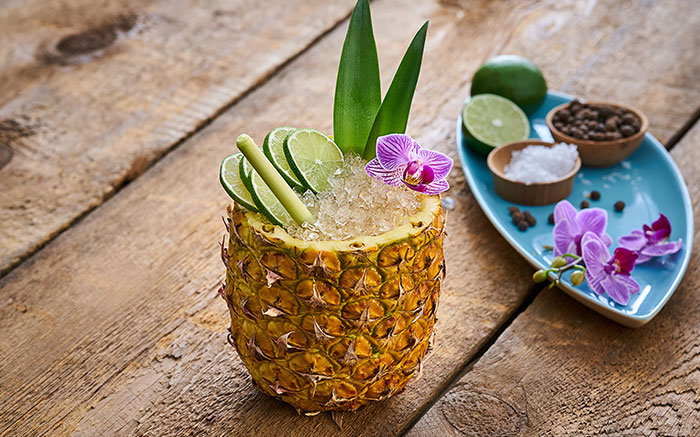 Rosemary-Lime Cordial
16 Limes, or enough to produce 2 cups of lime juice
1 Cup white sugar
.5 Cup fresh-picked rosemary leaves
Peel clean limes over white sugar in a mixing bowl.
Muddle for several minutes, releasing the oils from the peels onto the sugar. The mixture should resemble a grainy paste.
In a separate bowl, squeeze the peeled limes until you have 2 cups of lime juice.
Pour the fresh squeezed juice over the peels and sugar mixture and stir until the sugar dissolves.
Cover and allow to sit at room temperature for at least 6 hours or, ideally, overnight.
Strain out the solids and add the lime and sugar syrup to a blender.
Add freshly picked rosemary leaves and blend thoroughly.
Strain through a fine mesh strainer and pour into clean glass bottle before storing in the refrigerator.
Infused with More Use
The little bit of basil or mint left over at the end of your favorite dinner recipe can be such a bother to deal with. What do you do? Find another dish that needs those ingredients right away? Freeze them? How about putting that perfect aromatic flavor into your favorite spirit, syrup or liqueur for a rainy day and an herbaceous cocktail. Simply infuse and then use, it's that easy!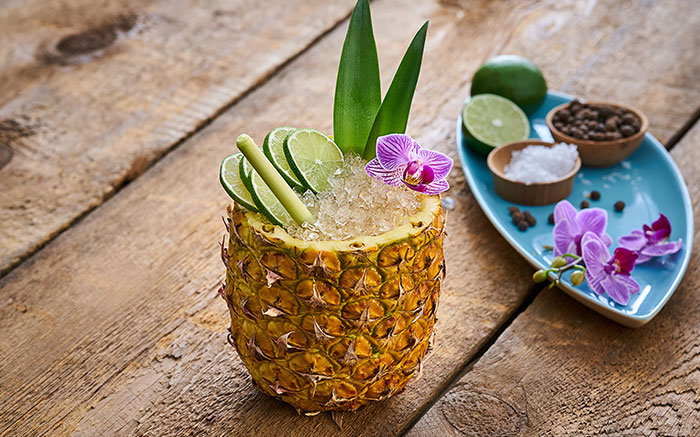 Herbed Tequila
750 ml Bottle of Patrón Silver
30 Day-old mint leaves
12 Sprigs celery leaves
2 Sprigs Fennel fronds
In large jar or pitcher, combine all spent herbs and bottle of Patrón Silver.
Let herbs soften and infuse into the tequila for 6-8 hours.
Fine strain the mixture into a clean jar and store at room temperature.
Again and Again
Double the flavor from your morning cup of coffee or tea –sorry, no doubling the caffeine –by giving your brew a second wind through infusion. It's good to the last drop when you add your grounds or leaves to spirits and liqueurs, giving them your favorite flavor and scent in a lighter dose. You didn't even know happy hour could get a jolt, did you?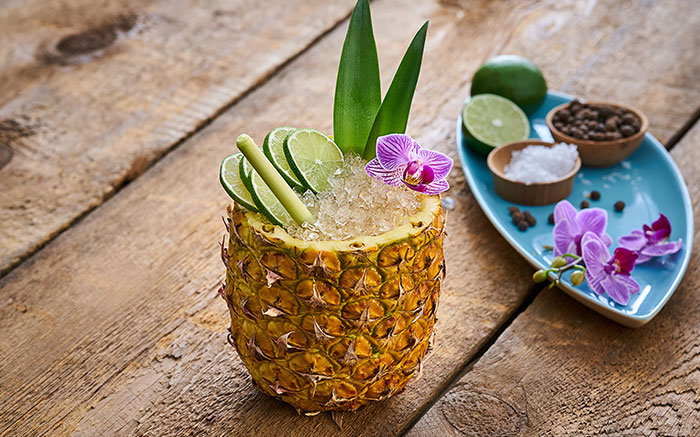 Coffee Vermouth
750 ml Bottle of sweet Italian vermouth
8 oz Spent espresso grounds
2 Star anise pods
1 Cinnamon stick
1 Vanilla bean pod
After brewing a pot of strong espresso, add the cinnamon stick and vanilla bean pod to the coffee grounds while they are still hot in the filter.
Bunch the filter together at the top and seal using string or a tight rubber band, making a packet with the grounds and spices.
Place the filter packet in a large container and cover with sweet vermouth.
Allow to infuse for 4 -6 hours at room temperature.
Remove the filter packet before straining and rebottling infused vermouth.
Just For You
You're In
Be the first to know our latest tequila news.
Now fill out your profile so we can get to know you over cocktails.