Just For You
You're In
Be the first to know our latest tequila news.
Now fill out your profile so we can get to know you over cocktails.
The Ultimate Labor Day Weekend Menu
Aug. 25, 2016
When it comes to savoring summer's precious last few days, two things are certain: You want the food and drinks to be epic, and you don't want to have to slave all day in the kitchen when you should be soaking in the waning hours of beach time. This menu, which features tequila-soaked carnitas, seasonal classics, a refreshing cocktail and a zesty dessert, is your best move for Labor Day weekend done right.
Cocktail: Watermelon Basil Margarita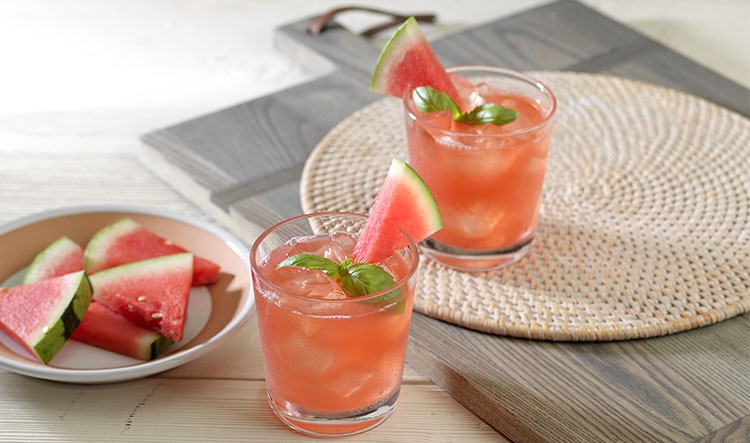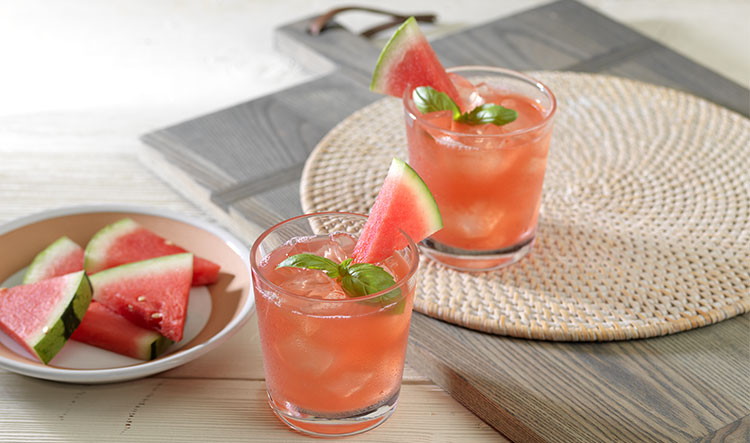 Watermelon Basil Margarita
1.5 oz Patrón Reposado
1 oz fresh watermelon juice
1 oz fresh lemon juice
1 oz Agave nectar
3 Basil leaves
Watermelon wedge for garnish
Combine ingredients in a cocktail shaker and shake with ice to chill. Strain onto fresh ice in a double old fashioned glass. Garnish with a basil leaf and wedge of watermelon.
Appetizer: Green Grape and Cucumber Gazpacho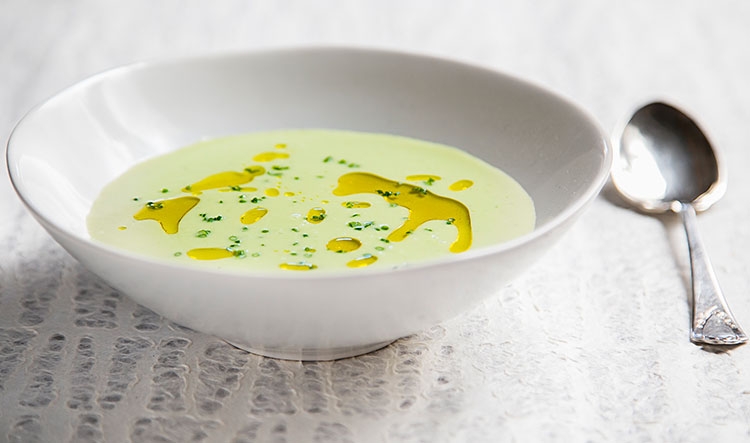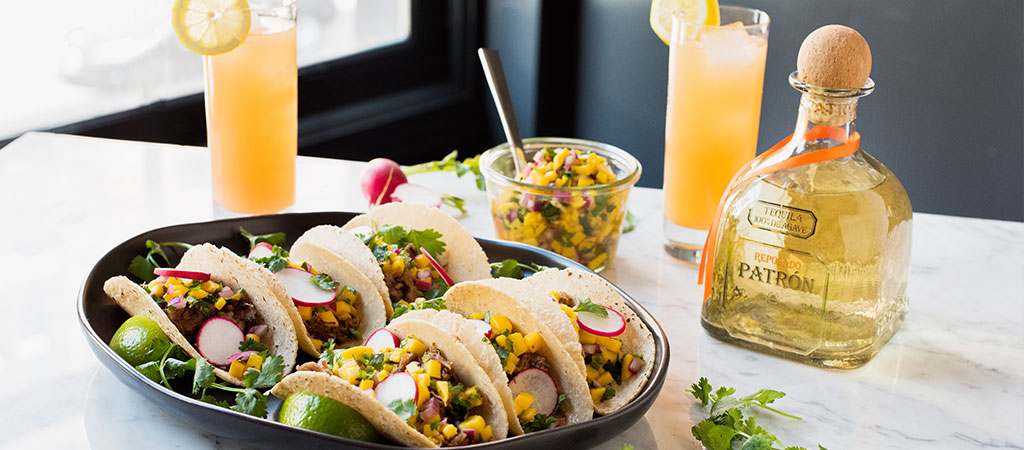 Green Grape and Cucumber Gazpacho
4 medium cucumbers
2 pounds seedless green grapes
2 one-inch-thick slices of stale white bread, crust removed
½ cup skinned hazelnuts, toasted
¼ cup extra-virgin olive oil
2 Tbsp sherry vinegar
1 cup ice water
Salt, to taste
Finely chopped chives, for garnish
Drizzle of olive oil, for garnish
In a blender, combine the cucumbers, grapes, bread, hazelnuts, olive oil, vinegar, water and purée on high speed until smooth. Strain the gazpacho through a fine sieve over a large bowl; season with salt. Chill in the refrigerator for at least 2 hours before serving.
Divide gazpacho among 6 chilled bowls. Drizzle with olive oil and garnish with chives. Make ahead: Gazpacho can be made 1 day ahead; covered and chilled.
Main Course: Pork Carnitas with Tequila-Mango Salsa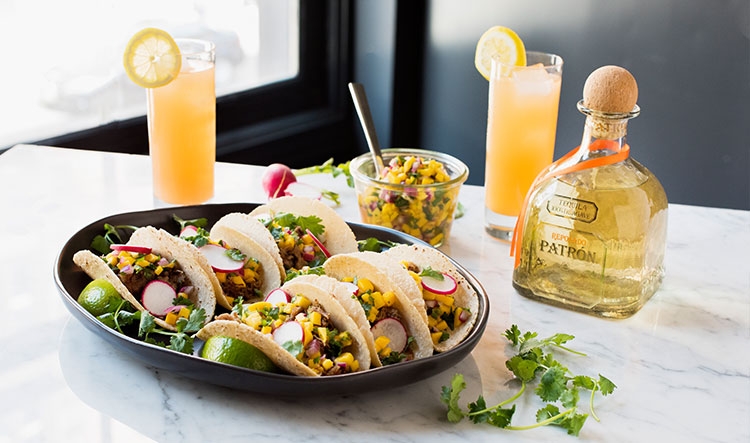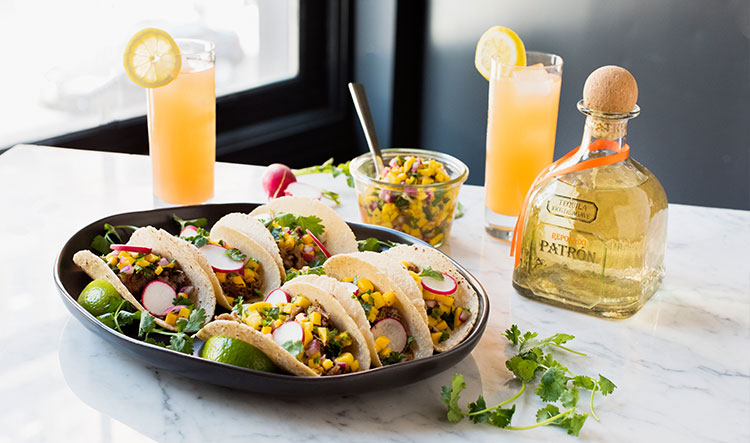 Tequila-Mango Salsa
2 cups diced ripe mango (about 2 large mangoes)
¼ cup diced jalapeño, seeds removed (2 jalapeños)
¾ cup diced red onion (1 small onion)
½ cup chopped cilantro
Lime juice, to taste (1 to 1½ limes)
1.5 oz Patrón Reposado
Salt, to taste
Combine all the ingredients and let rest in fridge while the carnitas cook.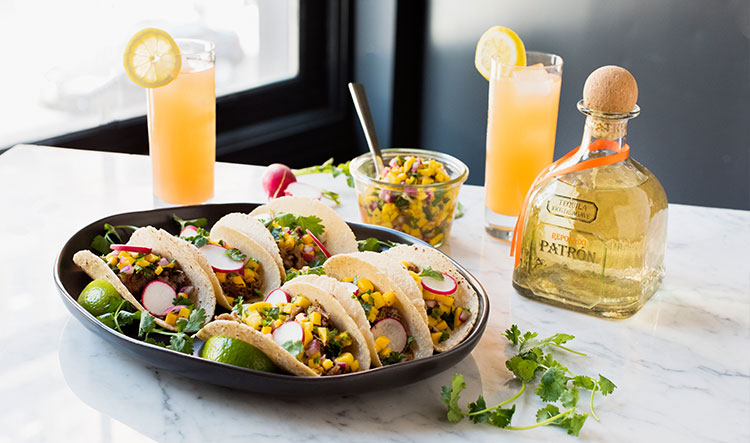 Carnitas
3¼ lb fatty pork butt, cut into 2-inch cubes
1 Tbsp olive oil
Kosher salt, to taste (1½ to 2 tsp salt)
2 tsp ground cumin
½ tsp ground coriander
2 tsp dried oregano
6 to 8 whole unpeeled garlic cloves
6 to 8 small whole unpeeled onions (torpedo or cippolini)
Water
Radishes, for garnish
Lime wedges, for garnish
Soft corn tortillas, for serving
Toss the pork pieces with olive oil, and then the salt and spices to coat. Place the meat in a Dutch oven large enough that it fits at the bottom in a single layer (about 8 quarts). Add the garlic and onions and enough water to just barely cover the pork. Bring to a simmer over medium heat and hold at a brisk simmer until the water is cooked off, the meat is tender and the fat begins to sizzle (about 1½ hours). Preheat the oven to 425°. Transfer the Dutch oven to the preheated oven and cook until the meat is evenly browned, about 30 minutes. Top with the tequila-mango salsa, garnish with the radishes and lime wedges, then serve with warm corn tortillas.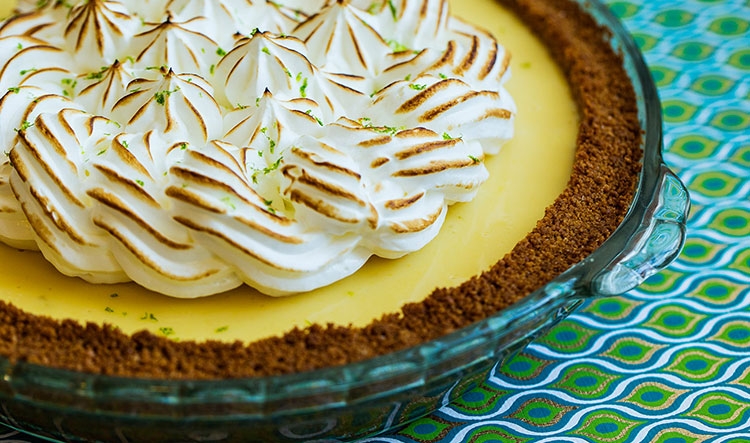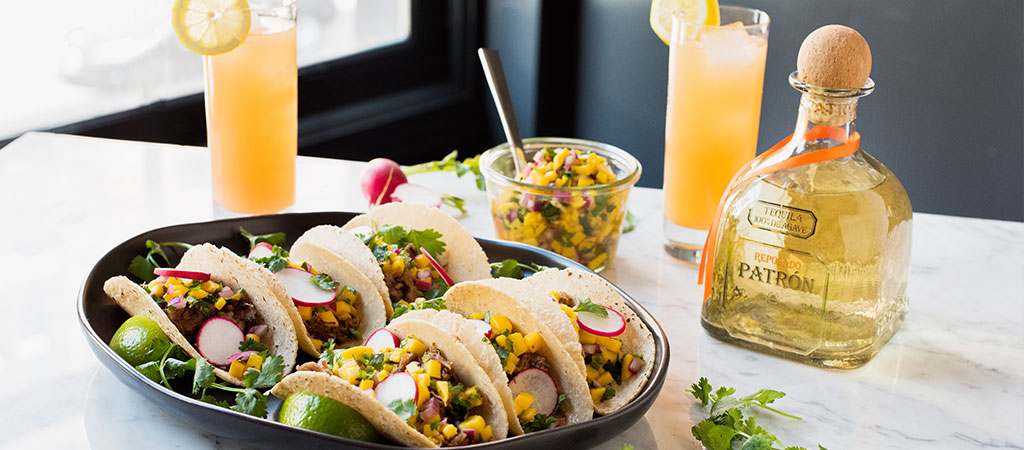 Crust
2 cups graham cracker crumbs
6 Tbsp unsalted butter, melted
1 Tbsp sugar
½ tsp salt
Preheat the oven to 350º. In a medium bowl, stir together all the crust ingredients until incorporated. Using the bottom of a ½ cup measuring cup, press the mixture evenly onto the bottom and up the sides of a 9-inch pie plate. Bake until the crust is set, 10 to 15 minutes. Let cool.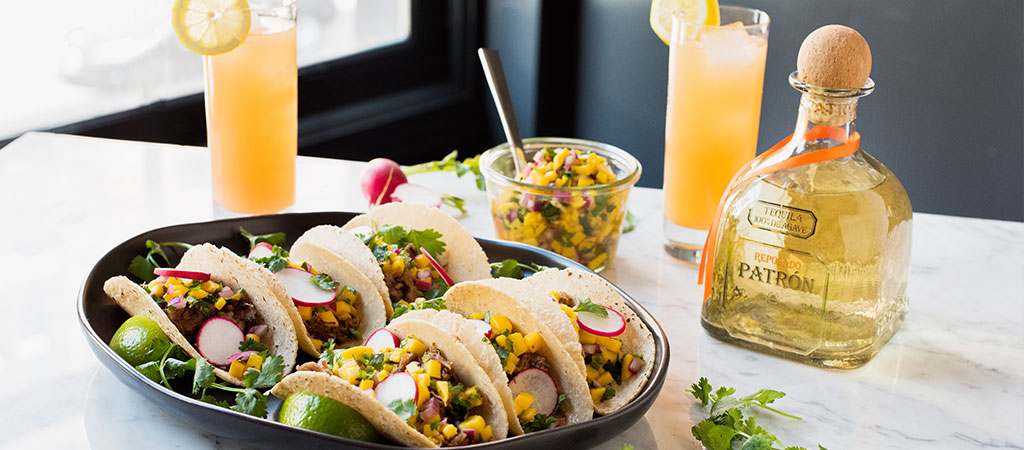 Filling
6 egg yolks
Two 14-oz cans sweetened condensed milk
1 cup fresh Key lime juice
1 tsp Key lime zest, plus more for garnish
½ tsp salt
In a medium bowl, whisk together the egg yolks and sweetened condensed milk until smooth. Add the remaining filling ingredients and whisk until smooth. Pour into the cooled pie shell, return to the oven and bake for 20 minutes. Remove from the oven and let cool completely. Chill overnight.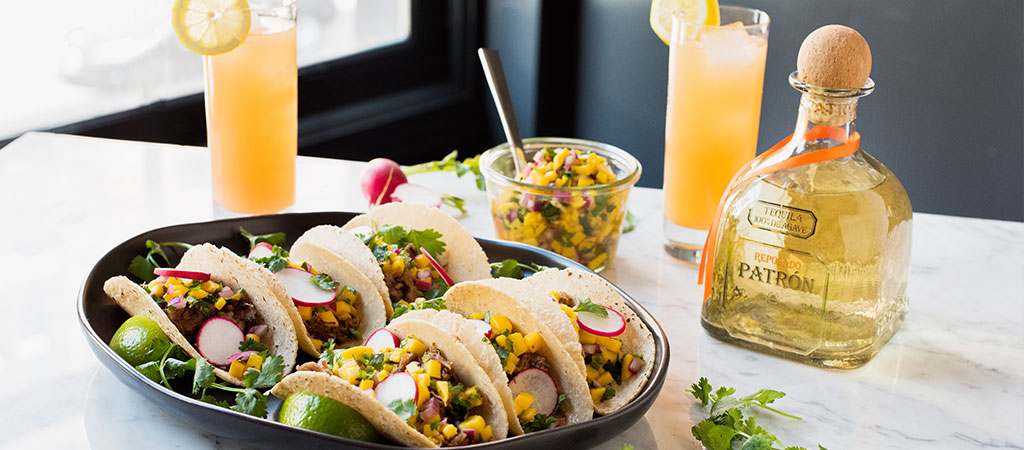 Topping
2 egg whites
½ cup sugar
¼ cup water
Key lime zest, for garnish
In a medium bowl, using an electric hand mixer, beat the egg whites until soft peaks form. In a small saucepan, combine the sugar and water over medium-high heat. Bring to a boil and cook until the syrup has reached 240º. With the mixer's motor running, slowly pour in the sugar syrup and continue to beat until stiff peaks form and the meringue has cooled completely, about 5 minutes. Spoon onto the center of the pie and torch until golden. Garnish with more Key lime zest, then slice and serve.
Just For You
You're In
Be the first to know our latest tequila news.
Now fill out your profile so we can get to know you over cocktails.