How to Make a Paloma Drink with Tequila
Making a Paloma cocktail is easier than you might think. Learn about what's in a traditional Paloma and how to make one with PATRÓN tequila.
Aug. 7, 2023
A CLASSIC COCKTAIL FOR ANY OCCASION
Tequila drinks are finding the limelight this year, and the Paloma has taken center-stage. So what's a Paloma, and how do you make one with PATRÓN tequila?
The Paloma is a classic cocktail with a simple and fruity flavor perfect for any occasion. Like a Margarita, it has tequila, lime, and salt, but the Paloma tends to be lighter tasting with a subtler sweetness.
Our PATRÓN Paloma recipe uses PATRÓN Reposado and fresh grapefruit juice alongside sparkling water. Scroll down to see the recipe below, and make sure to visit our Cocktail Lab to discover different takes on the Paloma.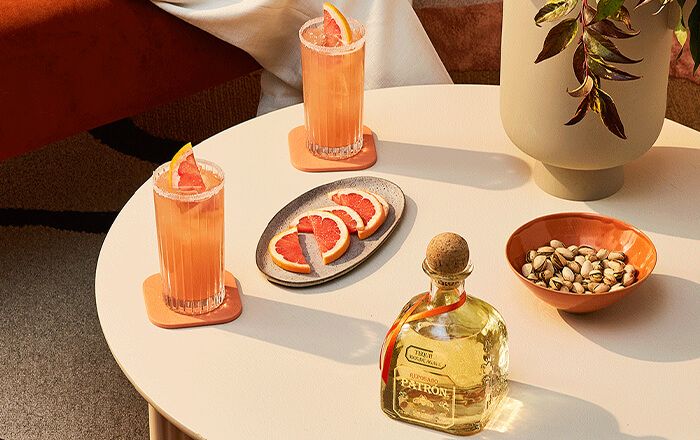 WHAT IS A TRADITIONAL PALOMA MADE OF?
A traditional Paloma drink uses tequila, lime juice, and grapefruit soda. It's one of the favorite drinks of Mexico, where PATRÓN tequila is exclusively produced.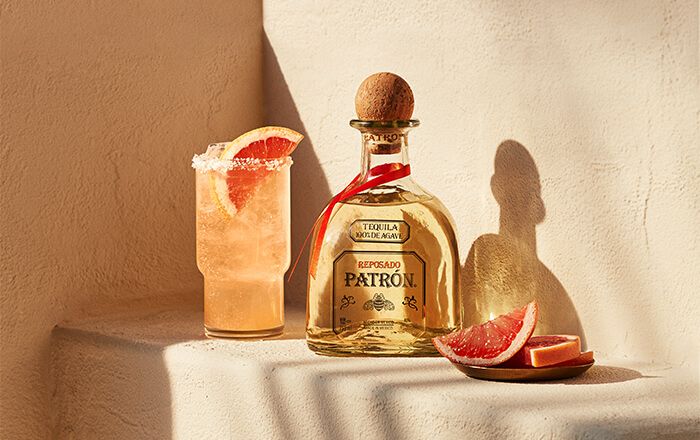 PATRÓN PALOMA
INGREDIENTS
1.5 oz PATRÓN Reposado
3 oz Fresh grapefruit juice
.5 oz Agave syrup (1:1)
.5 oz Fresh-squeezed lime juice
1 oz Sparkling water
+ Sugar and salt for rimming
+ Grapefruit wedge for garnish
METHOD
Combine all ingredients except sparkling water in a shaker tin and shake with ice to chill.
Strain onto fresh ice in a sugar and salt rimmed collins glass.
Top with sparkling water and garnish with a grapefruit wedge.
TIPS FOR MAKING THE BEST PALOMA
Mixing the perfect Paloma starts with getting your hands on the best ingredients. Every ingredient counts, so make sure to use fresh-squeezed grapefruit and lime juice, and of course, PATRÓN Reposado, handcrafted from the finest 100% Weber Blue Agave and carefully distilled in small batches.
While our recipes are created by world-famous mixologists, everyone's flavor preferences are different. Don't be afraid to try different ratios until you find the right balance for your perfect Paloma.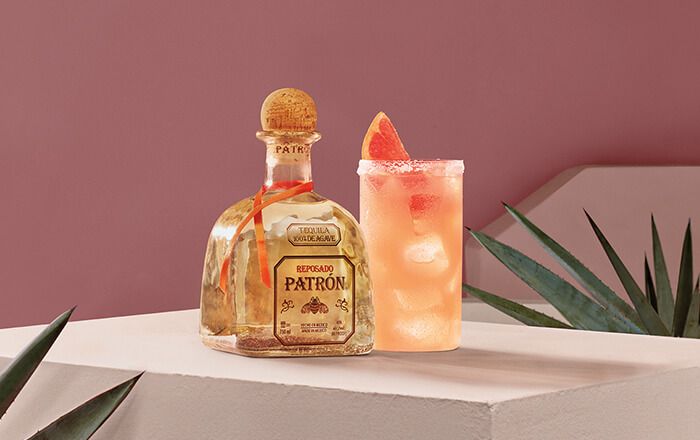 TEQUILA HAS MET ITS MATCH
The Paloma is a classic cocktail, and it's Mexico's favorite for a reason. The subtle flavor of citrusy sweetness makes for the perfect drink to enjoy at brunch, happy hour, or during a night out with the crew. So grab a grapefruit and a glass, and get mixing.