The Story of Aged Tequila
Sep. 6, 2022
At Patrón, we've worked hard to create a simply perfect aging process, ensuring full-bodied flavor with every sip. There are no two aged tequilas that are exactly the same. Each aged tequila reflects the style and technique of the tequila maker. In our case, master distiller Francisco Alcaraz developed unique blends for all of our aged tequilas using a combination of five different barrel types.
Francisco created a blanco tequila that has both fresh and baked agave characteristics, very smooth with low alcohol notes, and a unique flavor profile of citrus and white pepper. We highlight this because all aged tequilas start as blancos, and the blanco characteristics follow the tequila through the aging process.
At Patrón, Francisco wanted to never mask the house style of Patrón Silver, by over aging it. Patrón Reposado is aged for at least two months (the Reposado minimum aging time) for smooth taste with a hint of oak flavor. Patrón Reposado aged tequila has a bright taste with notes of fruit, citrus and honey, but finishes with a light floral and vanilla flavor.
The same house style is applied to Patrón Añejo, where we remove the tequila from the oak barrels near the Añejo minimum at 12 months. After the aging process you end up with a light amber to medium gold colored tequila with flavor notes of honey, vanilla, and citrus – three flavors you never thought you'd taste in a tequila. Until now.
A great way to enjoy Patrón Añejo in a cocktail is to put a spin on a classic recipe. The Añejo Old Fashioned and spicy Habanero Mole Old Fashioned are perfect for fall. Or try the Praline Old Fashioned—a unique twist to a classic with a praline add for a much-loved cocktail.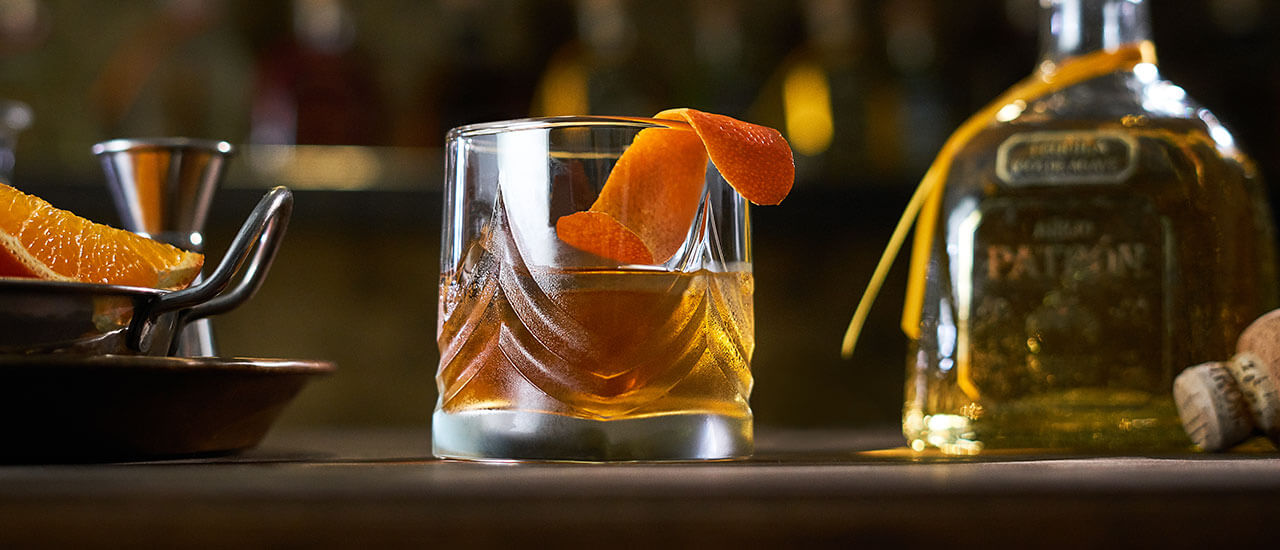 Añejo Old Fashioned
2 oz Patrón Añejo
.25 oz Simple syrup
1 dash Bitters
+ Orange Zest
Over a double old fashioned glass, use a vegetable peeler to take off two strips of orange zest, making sure to express the oil into the glass.
Add Patrón Añejo to the glass, along with simple syrup, and bitters.
Add ice—the biggest cubes you can find—and stir. Adjust sweetness to taste.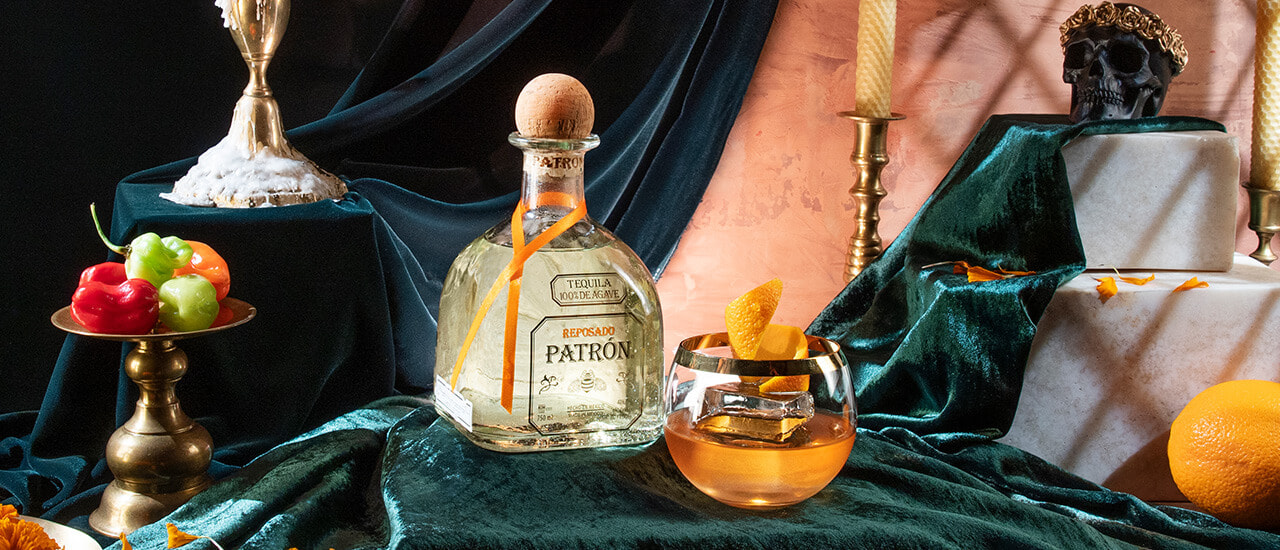 Habanero Mole Old Fashioned
1.5 oz Patrón Añejo
0.1 oz Agave syrup
½ inch Orange zest
2 dashes Habanero bitters
5 dashes Chocolate bitters
+ Orange zest
+ Dark chocolate square
+ Slice of habanero chili
Muddle orange zest in glass and discard.
Add ingredients and ice.
Stir to dilute.
Top with ice.
Garnish with orange zest, dark chocolate square and habanero chili.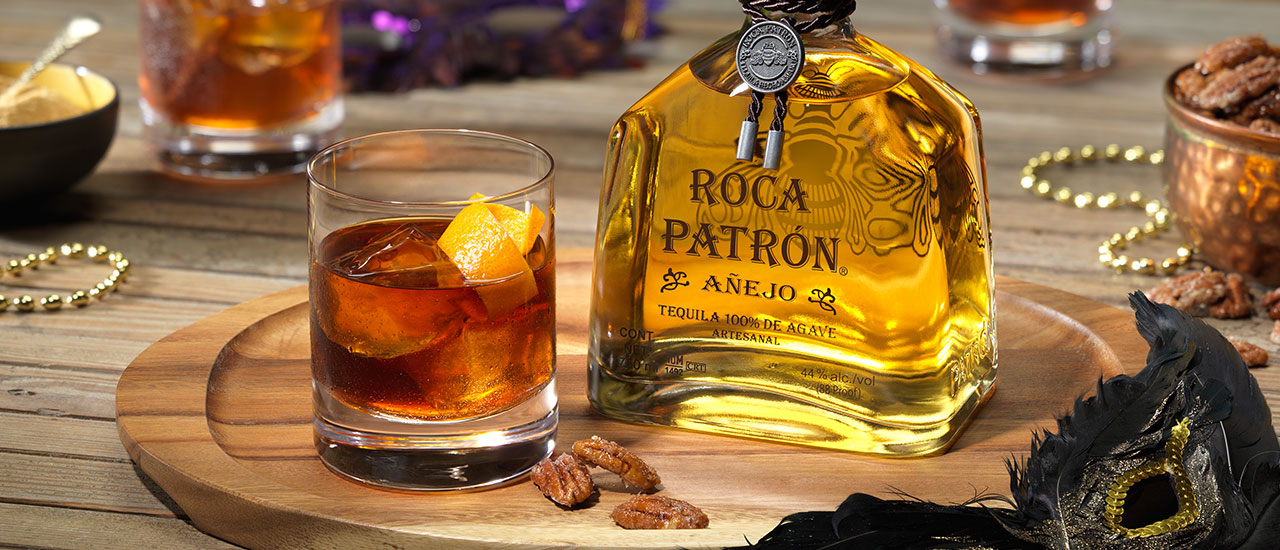 Praline Old Fashioned
2 oz Roca Patrón Añejo
0.5 oz Praline syrup
+ 1 dash Aromatic bitters
+ 1 dash Mole bitters
+ 2 Orange peels, one for garnish
Express the zest of one orange peel and drop in mixing glass.
Add Roca Patrón Añejo, syrup, and bitters.
Fill with ice and stir to chill.
Strain onto fresh ice in a double old fashioned glass.
Garnish with an expressed orange zest.
Pro Tip—the Old Fashioned is, quite literally, the oldest cocktail in the proverbial book. But just because it has been around for a long time doesn't mean it isn't open to innovation. The drink is simple to make, and almost as easy to experiment with. Try substituting a rich sugar like demerara or turbinado, or a different sweetener altogether—honey syrup, agave nectar, vanilla bean syrup all work splendidly. Or, experiment with any of the variety of bitters that are on the market—or try a combination of bitters. Lastly, nothing glorifies the Old Fashioned like a big solid piece of ice. Numerous "large format" ice molds, in various sizes and shapes, can be found on the Internet and in specialty bar or cooking shops.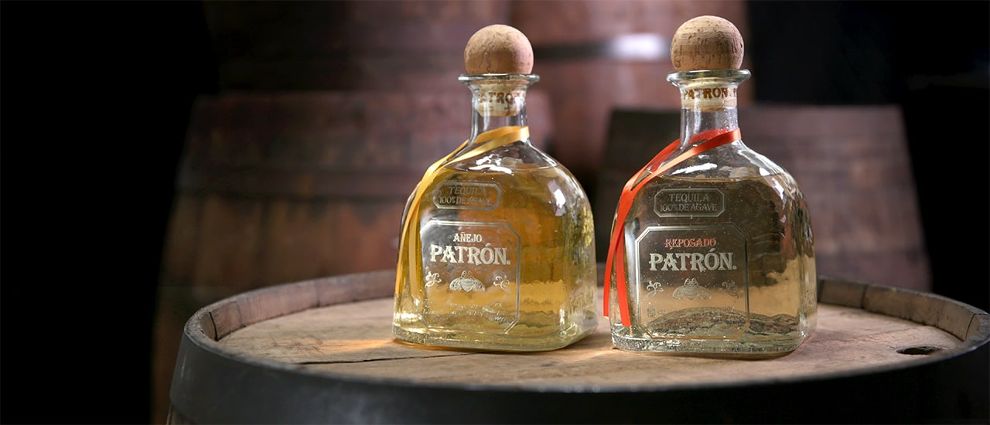 From our hands to yours
Patrón is proudly handcrafted every step of the way